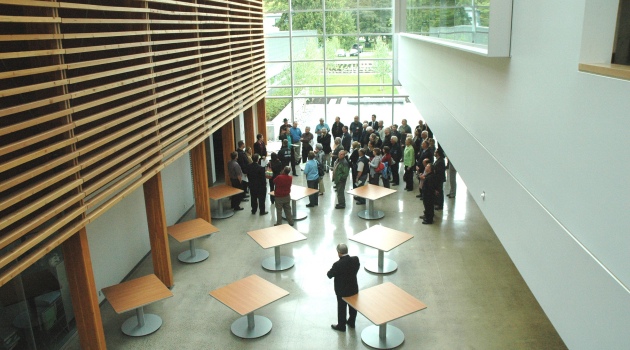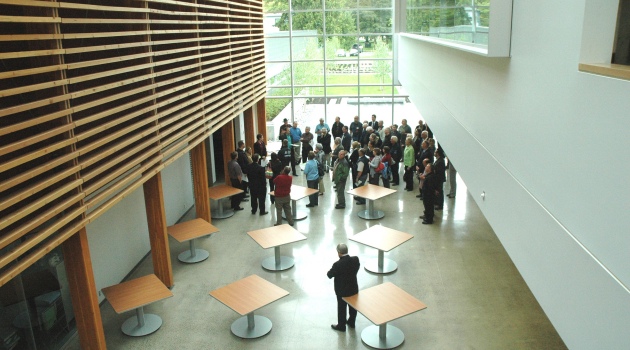 1995 — Federal government announces closures of several military bases, including CFB Chilliwack, as a cost-cutting measure. CFB Chilliwack winds up operations in 1997.
1997 — UFV (then UCFV) commissions study for an International Centre on former base lands.
March 2003 — Partners submit proposal for Canadian Research, Education, Science & Technology Park to the Department of National Defence.
July, 2003 ­— UFV (then UCFV) signs agreement re Canada Education Park proposal at Chilliwack City Hall on July 25. Those signing the document are Chilliwack Mayor Clint Hames, UCFV president Skip Bassford, MLAs John Les and Barry Penner, Justice Institute of B.C. president Jack McGee, and Doug Kester, vice president of Canada Lands.
October, 2004 — Letter of intent between CEPCO and UCFV re: Ed Park Development Agreement.
July 15, 2004 — Premier Gordon Campbell announces future expansion of UCFV at CFB Chilliwack.
January 2007 — UCFV receives $29 million from the provincial government for the purchase of 80+ acres within the Canada Education Park. $7.6 million was provided for the purchase of land with $21.6M being delivered for the renovation of an existing 104,000 square foot building, which is now the new UCFV Trades & Technology Centre.
2007 — UCFV renovates former CFB Chilliwack warehouse to create new Trades and Technology Centre. It opens in Fall 2007.
2008 — UCFV is granted university status and becomes UFV.
2009 — Federal and provincial governments announce $7.22 million in Knowledge Infrastructure Program funding for upgrading infrastructure and roads at CEP.
2010 — UFV begins construction of new learning block on the Chilliwack campus at Canada Education Park.
May 7, 2012 — Employees and services begin the big move to the new building.
Sept 2012 — Classes begin.
This timeline originally appeared as part of UFV on the Move in the Chilliwack Progress.