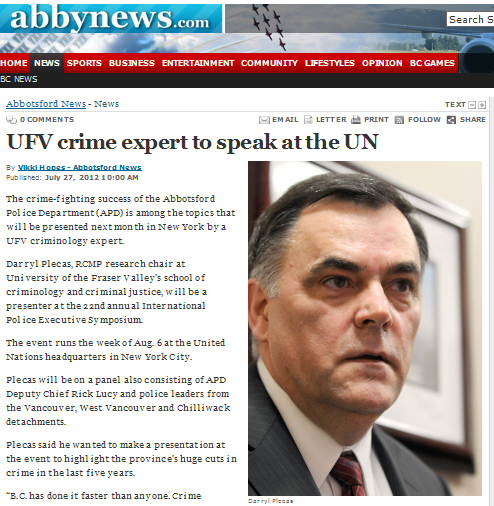 UFV crime expert to speak at the UN
By Vikki Hopes – Abbotsford News
The crime-fighting success of the Abbotsford Police Department (APD) is among the topics that will be presented next month in New York by a UFV criminology expert.
Darryl Plecas, RCMP research chair at University of the Fraser Valley's school of criminology and criminal justice, will be a presenter at the 22nd annual International Police Executive Symposium.
The event runs the week of Aug. 6 at the United Nations headquarters in New York City.
Plecas will be on a panel also consisting of APD Deputy Chief Rick Lucy and police leaders from the Vancouver, West Vancouver and Chilliwack detachments.
Plecas said he wanted to make a presentation at the event to highlight the province's huge cuts in crime in the last five years.
"B.C. has done it faster than anyone. Crime dropped in Canada by 15 per cent in the last five years, but it was 25 per cent in B.C. and 45 per cent in Abbotsford. This is really a remarkable story," he said.
Plecas said these cuts are particularly astounding considering "incredibly under-resourced" policing in B.C.
"We've been able to do all this with 50 per cent fewer police that they have in New York … It's about smart policing."
Plecas said the APD will be highlighted for its work in reducing gang-related crime, including the introduction of a gang suppression unit (GSU) in 2010, following a two-year period in which violent crime was rampant in the city.
Several gang-related murders contributed to Abbotsford being dubbed the "murder capital in Canada" for its 2008 and 2009 statistics. The homicide rate dropped dramatically in 2010 and has remained low.
Plecas said the APD deserves credit for facing the issue head-on and finding new ways to work with the resources it had available. In addition to forming the GSU, the department held a series of anti-gang presentations for youths and parents, as well as creating videos and posters that addressed the issue.
"At the end of the day, they did things that are different than anyone else has done," Plecas said.
He said the Vancouver Police Department will be featured at the UN presentation for its "intelligence-led policing" initiatives that have also had a huge impact on reducing gang crime, while the West Vancouver Police Department has successfully tackled the recidivism rates of offenders.
Chilliwack RCMP will be highlighted for its work in studying the impact of the "restorative justice" model in areas such as assaults and break-and-enters.
"The whole idea is to talk about successful ways of reducing crime," Plecas said.
View the article online here: http://www.abbynews.com/news/164024796.html