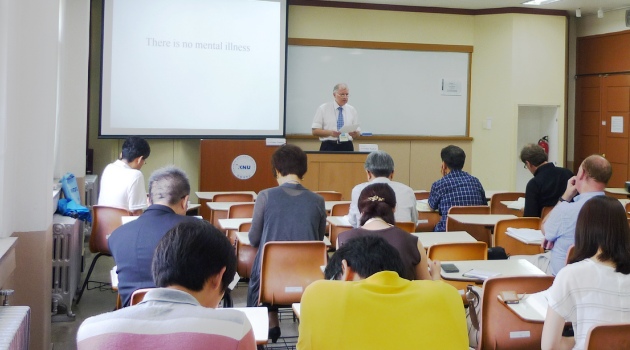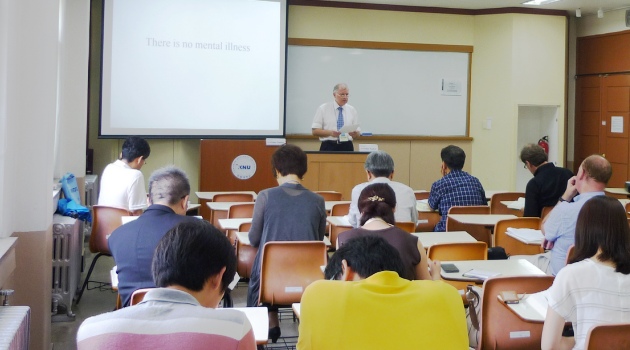 Dr. Peter Raabe describes himself as a philosopher, a researcher, and a professor. While attending a philosophy conference in Korea this July, he was surprised to find out that he was also a bit of a rock star in his field.
"It was kind of crazy," he says with a laugh. "Everyone wanted to take their picture with me and wanted my autograph. It was completely unexpected."
Raabe has published three books on philosophy, and the 2011 translation of his text Philosophical Counselling: Theory and Practice was chosen by the Korean National Academy of Sciences as one of the outstanding books of the year. This honour means that Raabe's book will be purchased and distributed to universities, libraries, and research centres across Korea.
Kangwon National University in Chuncheon, Korea, played host to this year's fourth annual Humanities Therapy conference and eleventh International Conference of Philosophical Practice.
Raabe specializes in philosophical counselling. Humanities therapy, the focus of the conference, is a relatively new addition to that field.
"Humanities therapy is a form of counselling," Raabe explains. "It's basically therapy that involves literature, art, music, history — a way of using the humanities to help clients through their problems."
Raabe's presentation at the conference, Philosophical counselling and the tree of knowledge: bringing the clients' issues to light, was one of the best attended sessions of the conference. Part lecture, part workshop, Raabe says he tries to move out of the theory and into practical thinking.
"I just tried to keep the ideas simple and accessible," Raabe explains, "I think that's something the audience appreciates."
Raabe has been attending the Humanities Therapy conference since its inception three years ago, and he describes the annual event as a collaborative project involving over 20 countries.
"Many of the people who attended represented their countries' national associations," Raabe says. "So although it was a gathering of individuals, they were more than individuals — it was a meeting of countries to share knowledge and teach each other."
Raabe describes the conference as a great way to network and make connections. He was invited to speak in China next year on the same subject, and was also approached by Taiwanese students who wanted to establish a dialogue with UFV philosophy students.
"The fact that UFV has a student union of philosophical counselling, created and led by students, seemed to be a novelty," Raabe explains. "You have to remember that in a lot of these cultures, the professors have absolute power — so the idea of the students taking initiative was bizarre and revolutionary to them, but definitely very cool. A lot of professors from other institutes walked away with intent to encourage something similar with their students."
The conference organizers also allowed time for more cultural events, such as a tea ceremony, and calligraphy and Tai Chi workshops. Overall, Raabe says, the conference was a jam-packed, exciting, and invaluable experience.
"I was so lucky that this trip was made possible by the generosity of the UFV Professional Development fund. Otherwise this kind of opportunity would be completely out of reach."
Raabe will be taking a year's sabbatical starting in September to write his fourth book. More information about his studies can be found here , and photos of his trip can be seen at this Flickr gallery.