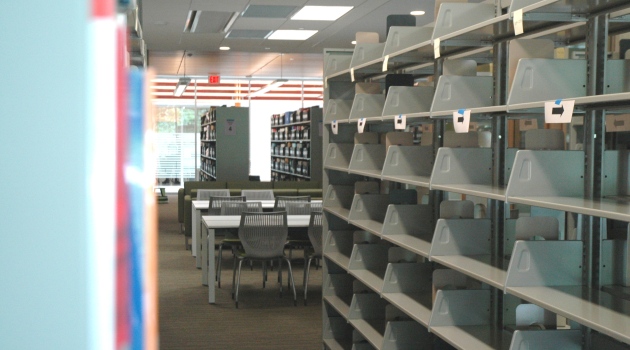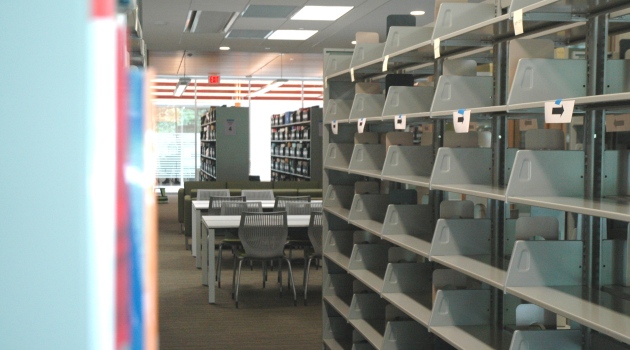 Over the course of the last month, UFV's new building at Canada Education Park (CEP) has been slowly filling with people. Almost every morning, more faculty and staff make the leap from one Chilliwack campus to the other, carrying boxes of books and desk supplies, coatracks and office chairs. Sometimes students can be spotted catching lunch at the Tim Horton's or studying at the brand new tables in the study areas around campus.
And this week, UFV's Chilliwack library opened its doors at CEP for the first time.
"Even though we were only moving across town, it was a huge project," says Leslie Olsen, the Chilliwack campus library technician in charge of organizing the move. "It was, frankly, overwhelming at first. But it's been an amazing journey."
The project of moving the Chilliwack library collection from one campus to another started well over a year ago. Before anything could be moved, they had to plan out how the collection was going to look in the new space.
For the library staff, it was like playing in a candy store.
"We were really lucky to have a lot of input on what the new library was going to look like," explains Olsen. "Mark Travis, the architect we worked with, was just great. He really understood our vision and listened to the things that were important to us as well as the things that worked well in the old library. The new library is everything we hoped it would be. We really got everything on our wish list."
The new library is large and bright, with a variety of study spaces for students and floor-to-ceiling windows spanning an entire wall. The collection is now organized on twenty rows of brand-new, matching shelves, with plenty of space for growth in the future.
"There's lots of room for us to expand," Olsen notes. "In the old space, the books were just packed on the shelves, but in this library there's really space for the collection to breathe and grow in the future."
Moving the collection from one set of shelves to another was far easier said than done. First, Olsen and two work-study students measured the collection – a painstaking process involving months on hand and knee with measuring tapes. And when they finished measuring, they did it again.
"We had to be absolutely sure that our figures were correct," Olsen explains. "We needed to know that the amount of space we planned for each shelf was going to work, so we wouldn't get to the end of the move and have run out of shelves. That would have been the worst nightmare."
But Olsen is quick to point out that the library team had help from every angle. In 2011, Olsen was lucky enough to have a free consultation with a library move specialist, who outlined exactly what the process would look like and what to watch out for.
"That assuaged a lot of our fears," says Olsen with a laugh. "She told us to just keep it simple — to colour-code and keep things in order — and we'd be fine. That's the wonderful thing about library people; they're incredibly willing to share their experiences and suggestions, and advice on issues that might occur and how to fix them."
The team was also fortunate in securing a moving team that had experience moving offices and archives from one location to another.
"Some of them even had experience moving libraries," Olsen says, "and that was extremely comforting."
Even so, she explains with a wry grin, there were a fair number of bumps along the way.
"The books were moved on these giant plywood carts, and then shrink-wrapped," Olsen explains. "Then we colour-coded and numbered the carts to keep them in order, and marked which side of the cart should be unloaded first.
"And that system came in handy when, one of the days, we weren't at CEP when the vans were unloaded so the carts were all mixed together in the lobby in absolutely no order. The next day we had to try and see it from all sides to figure out which ones we needed to maneuver out in what order, which seemed to take forever. But the system worked the way it was supposed to, which was a relief."
UFV's Chilliwack library branch was closed for a little over two weeks for the move, and by the time the collection was safely on the shelves they still had a couple of days to spare. To say that the library team was excited to finally open their doors once more would be an understatement.
"It was a big job, but it went really well and we're extremely happy with the way things look on the shelves," Olsen says. "We had some students say they were sad about leaving the old library, because it was small and comfortable and had a really friendly atmosphere. But we really strove to recreate that sense here. Thinking about the old library and how cramped that space was, we really aren't going to miss those challenges at all."
The library is now open for summer at 45190 Caen Avenue, from 8:30am–4:30pm, Monday–Friday, and is closed on weekends. For more information, you can call 604-795-2824 or email circchil@ufv.ca.
A photo gallery of the new library space and the move can be seen at http://goo.gl/quHtx