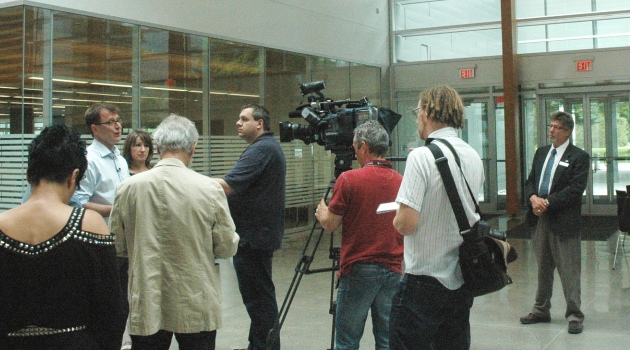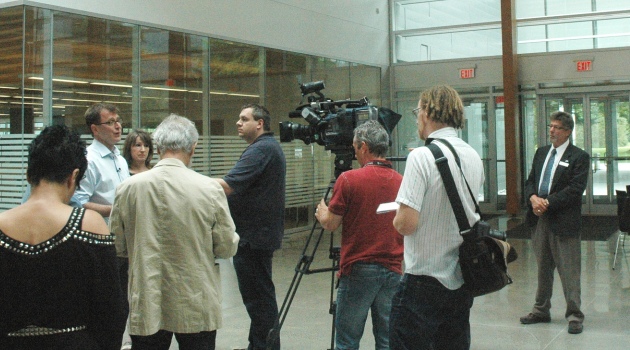 Adrian Dix and Gwen O'Mahony of the NDP visited Canada Education Park (CEP) this past Friday to help raise awareness of colorectal cancer.  UFV's new building at CEP, which will house UFV's Health Sciences was the natural choice for the press conference.
The issue of colorectal cancer awareness is close to Dix's heart — his mother is a survivor of the disease, although he warns not everyone is so lucky. Although there is a 90 per cent survival rate, colorectal cancer rarely shows outward symptoms until the chances of survival are much lower.
Dix says that the best way to fight the disease is to roll out a province-wide early screening program. There is a Colon Check pilot program in place in some places in B.C. already, including Powell River and Vancouver. Dix described how this inexpensive measure will not only save lives but also save the BC government a substantial financial amount.
Cindy Stewart, a marketing and business professor at UFV, also spoke at the press conference on Friday. Stewart was diagnosed with colorectal cancer at the age of 32, and was given a 21 per cent chance of survival.
She urges everyone in the target age of 50 to 75 to get tested.
"People do not have to die, they do not have to undergo the pain and suffering I did," Stewart said, describing 52 consecutive weeks of chemotherapy while balancing single parenthood. "With early detection, it is 100 per cent curable. Go; go get tested. It will save your life."
More images of the press conference can be seen here.