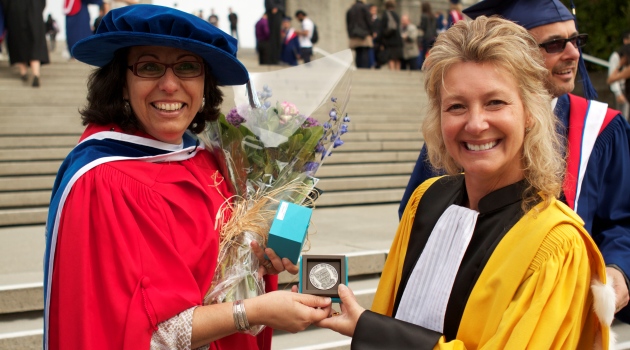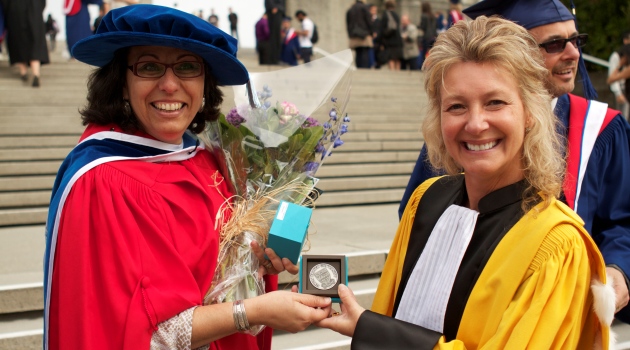 Dr. Ghizlane Laghzaoui only joined UFV as a full-time professor last year, but she's already making waves.
She completed her second doctorate at SFU in May 2011, and started teaching at UFV full-time in the fall. She taught French in the Modern Languages departments of both UFV as a sessional and SFU as a limited term lecturer, and loved the experience she had at both universities. So when she graduated with her EdD in 2011 and a full-time position opened up in UFV's Modern Languages Institute, she jumped at the chance without a second thought.
"It was actually excellent timing," Ghizlane says with a laugh.
But SFU wasn't done with her quite yet.
At convocation on June 15, Ghizlane was awarded SFU's Dean of Graduate Studies convocation medal for her thesis.
This award recognizes a student in graduate studies who has completed outstanding work in their graduate degree — work that places them in the top five per cent of their class. After four years of hard work and an almost incomprehensible amount of multitasking (as she balanced her studies with teaching, volunteering, and family life), Ghizlane's cumulative GPA was 4.33.
And although this might sound like a lot of work, it was all about following a passion; Ghizlane volunteers with groups on a provincial and national level that aim to help Francophone immigrant women adjust to Anglophone culture and work as smoothly as possible. It was this work that helped inspire her thesis, which discusses and analyzes the experience of Francophone immigrant teachers within Francophone schools in Metro Vancouver
"It's the issue of being seen as a legitimate teacher when French isn't your mother tongue," Ghizlane explains. "The identity and culture are completely different for Francophone immigrant teachers, and that can sometimes clash with the system already in place, especially when education is a means of linguistic and cultural reproduction. I'm basically working on perceptions and  social representations concerning how the teaching practices and interactions of these immigrant teachers impacts their professional and personal identities. Integration is not an easy process"
In her thesis, Ghizlane discovered that although there's an incredibly high demand for Francophone teachers in BC schools, immigrant teachers whose first language is French have a difficult time finding work in Francophone schools. She says that although the doctorate is now complete, her work doesn't end now that her thesis is handed in.
"This is only the first step for me — there's a question mark somewhere, and that's what I'm investigating," Ghizlane explains.  "When you finish a thesis, you don't finish thinking, researching, or acting in the field. You still want to go into the field and make change happen."
Ghizlane's thesis, titled Paroles d'immigrants ! Représentations sociales et construction identitaire chez les enseignants immigrants francophones en Colombie-Britannique (which translates as Immigrants' Word! Social Representations and Identity Construction Among Francophone Immigrant Teachers in British Columbia in English) was written and defended entirely in French — the first EdD of its kind at SFU or any western university. Ghizlane expected that choosing to write her thesis in French would automatically decrease the number of readers. She got her first surprise when more than 60 people attended her thesis defense, either in person or by video conference, and it was an even bigger surprise to learn she had won the Dean's medal.
"I didn't believe it at first. It's a thesis in French at an Anglophone university! What are the chances? I still cannot believe it. It was beautiful news, but I think even SFU was surprised — it's not easy to recognize a thesis in another language."
Ghizlane says one of the interesting aspects of this second doctorate was working at it while still teaching classes of her own.
"I completed my first PhD in 1992," Ghizlane explains. "I hadn't been a student in quite a while. And then, all of a sudden, I was back in my student shoes and I looked differently at my own students. I think I became a little more lenient, a little more forgiving, assigned a little less reading. I understood those pressures again.
"And then teaching and learning became a continuum. The classes I was taking for my doctorate were lending themselves to my own teaching. It was a new perspective to help make sense of what I was doing — I was learning about myself."
Eventually, Ghizlane says she can see herself undertaking another degree at some point in the future, but is putting that idea on the back burner for a while.
"I think for now I'll give a break to my husband and my kids," she says with a laugh, "but eventually I'd love to get another degree. I love learning. Our whole lives should be spent learning."