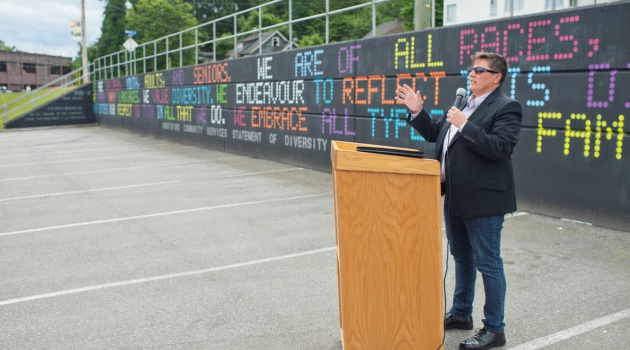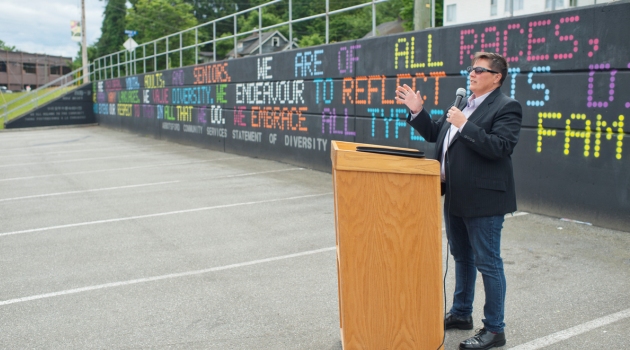 Abbotsford just became a little bit brighter.
As a collaborative effort between a myriad of community groups and services, Abbotsford Community Services (ACS) transformed the bare concrete side of their building into a mural.
One of the very first steps was to hire Shelley Stefan, a Visual Arts (VA) instructor at UFV, as mural director.
"It's been a year-long project, and filled with research — looking at international murals, murals that don't just look pretty but have a social and cultural impact. We wanted to create a mural to show Abbotsford is full of all kinds of people."
Stefan soon selected seven muralists, five of whom are students or faculty at UFV, to help move the mural from the planning stages into real life. As part of the application process, each artist submitted not only a portfolio of artwork but also a written submission describing what diversity meant to them.
"It wasn't a just a call for artists, but also community members," Stefan explains. "We were looking for creativity, but also people invested in what it means to respect diversity."
As they brainstormed and pooled ideas over a period of months, they eventually decided the best way to represent diversity in Abbotsford was through ACS's own diversity statement.
"We are children, youth, adults and seniors," it reads. "We are of all races, all religions, all cultures, all abilities, all sexual orientations, all genders, and all economic levels. We speak many languages. We value diversity. We endeavour to reflect this diversity in our volunteers, board and staff. We respect all our neighbours and clients and extend our respect to them in all that we do. We embrace all types of families. Therefore, we will act to promote inclusion of all in our agency and in our community."
This caught in Stefan's mind, and when she shared it with the other muralists they jumped right on board with that message.
"Every word of it is positive. It'll sit with you. It's not meant to be didactic; it's meant to be ingested," Stefan explains. "We thought that was so beautiful, just beautiful in every way. We said, 'let's shine that back, that tiny paragraph; let's make it as big as possible, as bright as possible.'"
But deciding on the message was far from the end of the journey. The muralists had 230 feet of bare concrete – a full city block – to transform. Although they now knew what they wanted to put on the wall, they still didn't know how. With the diversity statement in mind, they started looking at fonts, colours, and styles of lettering.
They finally decided on a kind of pointillism, reminiscent of neon signs and Lite-Brite. Each letter is 20 inches high and 15 inches wide, and using plywood templates as stencils, they painstakingly spray-painted each letter in order on the wall.
"It was a process that no one had done before, so it was an experiment more than anything else," says Michelle Auton, one of the muralists involved in the project as well as a student at UFV. "We kind of bet the farm on those plywood templates — we didn't actually know if it would work.
"The other unexpected aspect of the templates was that we became fascinated with them as artists; they really became artwork in and of themselves," Auton says. "One of the muralists took a photo of each template, and I think we all took pictures of a few. It's interesting to think about how this process will inspire new projects from all of us in the future. It was such an interesting journey."
When the mural was finally completed, the muralists heaved a huge sigh of relief: it turned out exactly as they imagined and exactly as they hoped.
"It's like nothing else in Abbotsford," Stefan enthused. "It's bright, it's contemporary, and when you look at this thing, you want to just keep looking."
Most satisfying to Stefan and the team was the way it perfectly conveyed the message they were aiming for.
"It's not just celebrating that we're all different kinds of people, but that we're all kinds of different people and we all belong. I think I was really inspired, personally, by the BC human rights code, especially having moved here from Chicago. The message is that everybody matters, that there are no second-class citizens.
"We were all really dedicated to this project, and the muralists really executed it with skill and grace."
Auton says the project was more than just a collaboration, but a celebration of respect, creativity, and collaboration between the artists and the community.
"I think what we were doing helped build a real sense of community — not just in those of us working on the mural, but with those passing by and seeing what we were doing," Auton explains.
"It's a bold statement for a community often seen as conservative," Auton adds. "But the more I learn about Abbotsford, the more I find that assumption to be flat-out wrong. Abbotsford is extremely supportive of the arts — just look at the Reach gallery, or things like this project. And I hope that this project is a way to remind ourselves that we're all in this together."
The mural was unveiled on May 29, and is located on Montrose Avenue in Abbotsford.
More pictures of the unveiling may be seen at http://goo.gl/O6Fdt
-30-