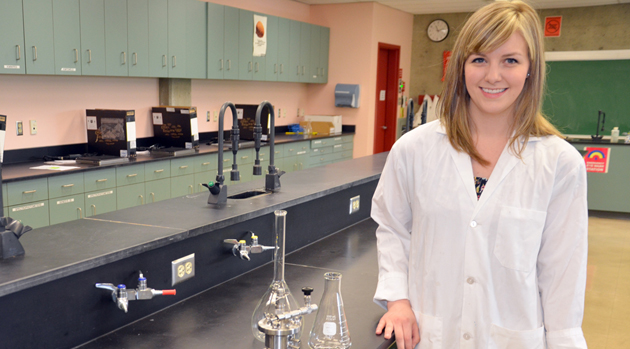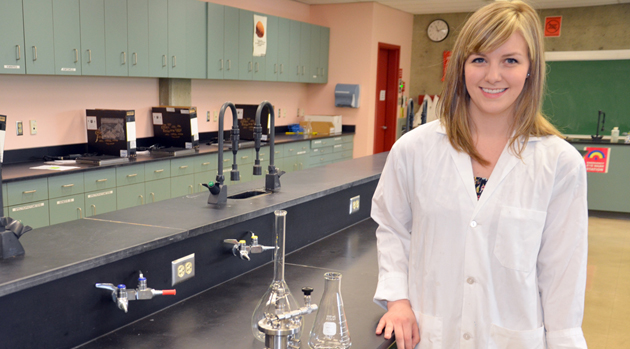 An art student who turned science major following the discovery that she had a rare disease was recently honoured as one of the top students in Canada.
Twenty-seven-year-old Jenna Peters from Abbotsford was awarded the Alexander Graham Bell Canada Graduate Scholarship for her genetic research done at UFV.
The award, valued at $17,500, is a prestigious one, given to only the top students across the country based on the student's research ability, academic GPA, and leadership skills.
When Peters applied to the National Sciences and Engineering Research Council of Canada (NSERC) last November, she was hoping to receive any scholarship. So it was quite a shock to hear she received the top accolade.
Another surprise was being accepted to start her PhD studies at UBC in September, without having a master's degree.
"It was all a bit of a shock —especially because I think all students are a little hard on themselves," said Peters. "It was a shock, but also an assurance, knowing that I am going into the right area. It's one thing to hope you can do something. It's another when everything starts falling into place so perfectly."
Within Peters' scholarship application, she shared the story of how she became intrigued by genetics.
In Grade 12, she found out she had haemophilia, a rare genetic blood-clotting disorder. At the time, she had the dream of pursuing a career in the visual arts, as photography and video production were her passions. Immediately after the diagnosis, she decided to pursue science.
"After that happened, I was so interested in the area of genetics, and learning about how those disorders are inherited," said Peters. "I wanted to dedicate my time to helping people with genetic disorders."
Because she was so focused on art, Peters hadn't taken any science courses in high school, and had to upgrade the courses in university.
While at UFV she attended a presentation by chemistry professor David Fenske, which sparked her interest in the field of research and its practical uses.
She ended up doing a year-long research project with Fenske on the topic of eliminating the side effects of cancer drugs.
At UFV's recent convocation ceremonies, Peters graduated with her bachelor's degree in science, with biology honours as a major, a concentration in cellular and molecular genetics, and a chemistry minor.
Next, she'll be working towards her PhD in medical genetics, for which she'll be using the funding from the Alexander Graham Bell Scholarship.
The award is one of many for Peters. Since 2010, she has won 10 academic and research awards, collecting honors ranging from making the Dean's List of Distinguished Students at UFV to the receiving the UBC Graduate Support Initiative Scholarship.
Starting at UBC in the fall, Peters is looking forward to getting back into the swing of researching.
"I love research and I can't explain the feeling that you get by working in the lab and being able to find something no one else has found before — it's an absolutely filling experience," said Peters.
She credits her experience at UFV for helping her develop her abilities and providing her with valuable experience, which has enabled her to take the next steps in her studies.