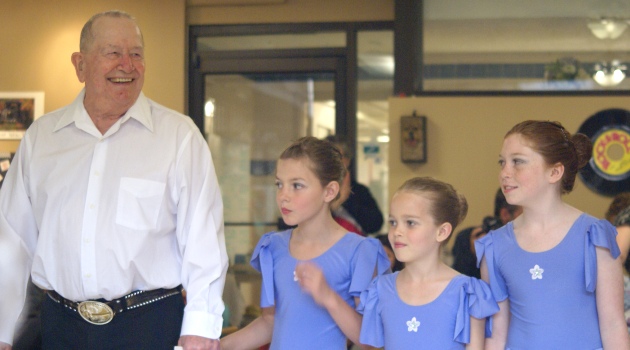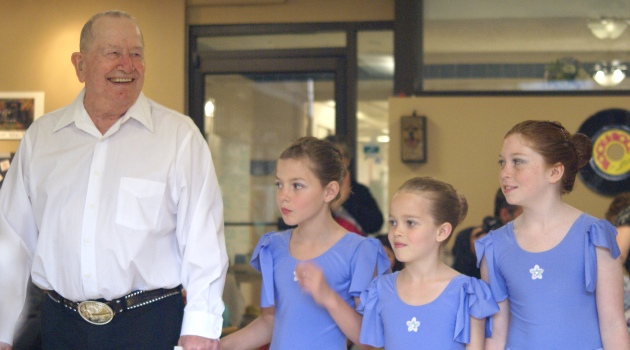 Pleasant View Care Home is easy to miss if you're not looking for it — a long, low building tucked behind a stand of trees on the outskirts of Mission, labeled with a simple wooden sign. Through a set of double doors are wide halls painted in warm colours, where seniors sit in chairs chatting, sleeping, and reading. The date and the day of the week are posted in bright letters on the wall, for those who can't remember. Next to it hangs a whiteboard schedule of activities and programs for the day.
One of the programs that ran at Pleasant View this past spring was not only a project for seniors, but also for several students and faculty members from the Nursing, Kinesiology, and Media and Communication Studies (MACS) departments at UFV.
Over the course of 16 weeks, the interdisciplinary research team studied a program titled "In the company of elders," which paired 15 seniors from the home with half a dozen school girls between the ages of seven and ten. Together, the seniors and the girls learned ballet from Lee Kwidzinski, who teaches dance in the Fraser Valley with a variety of programs.
"It evolved into a complicated, very collaborative project that began after I saw a full-length performance that Lee had created, which involved telling the stories of adults in residential care through dance," says Shelley Canning, who teaches nursing at UFV. "I saw the show and I was absolutely blown away. It was so moving and very, very real."
Seeing the collaboration between young dancers and seniors started wheels turning in Canning's head. She and Michael Gaetz, a member of UFV's Kinesiology department, were in the process of studying cognitive function in elders and how that changed or improved with regular physical exercises and activities. The idea of studying a partnership like the one Kwidzinski had created between seniors and children seemed like the natural evolution of that research.
They soon discovered there was more to the project than data.
"As we began, we realized there were moments we couldn't actually capture through the children's interviews or through our assessment data," Canning explains. "We knew that there were beautiful moments, and the only way to really capture them was through documentary."
The final piece of the project became a documentary team headed by Darren Blakeborough, a MACS professor, which consisted of five MACS students and several volunteers.
"My original plan was to get the documentary students running independently, and then just step back and let them do it," Blakeborough says with a grin, "but I couldn't. I couldn't not go. I'd miss a week, and someone would send me the field notes so I could read about everything that happened, and then I'd have to go the next week for sure. I'd just miss these incredible moments, and I felt so attached to everyone there that I didn't want to miss those moments as they happened."
Canning says that the program created the perfect vehicle for the children and seniors to interact.
"The children became so comfortable right away. It's a mix of things: music, dance, children, touch, communication. I think that why it works so well; both the seniors and the children are focusing on something else. They're not thinking about how uncomfortable they are because they need to be thinking about what they're doing."
Although both the kids and the elders were a little apprehensive at the start of the program, the two groups soon took to each other, teasing and misbehaving between exercises. The girls gave some of the elders nicknames, like "Grandpa" or "trouble-maker."
At the program's year-end recital on June 16, the girls gave each senior a rose — a customary post-performance gift for dancers. Likewise, the seniors presented the girls with a card that they had created and signed.
By the end of the afternoon, tissues were being surreptitiously shared between audience members for those who began to tear up.
"I've been working with this demographic for a long time, but you're still moved when you see real life. There's no pretention, there's no plan, there's no ego," Canning explains. "And the kids are so genuine. They have that sense that they're needed, and that the seniors need them.
"And then on the other side of things, the elders actually felt like they were helping the kids. Even though they were participating too, they felt that they were really just there to support the kids. So in the end, both the kids and the elders were looking after each other."
"We knew that the elders were going to love the girls, but both groups ended up really becoming attached to each other," Blakeborough adds. "We started filming a research project, and we ended up filming the relationship."
The program is now finished for the year, but the work is only just starting for the research team; the documentary crew has over 400 hours of footage to edit, and Canning says that her team has the equivalent volume in field notes and observations.
"We haven't even started drawing conclusions yet," Canning says, "but even just anecdotally, we've seen that this activity will absolutely engage elders that don't normally engage, or who are harder to engage."
Both Canning and Blakeborough hope to see the dance program continue next year.
"I think it's really important for the elders, but also for the young dancers," Blakeborough notes. "I know that Lee would love to have this happening more, to have program running not only in Mission, but in homes all over the Fraser Valley."
Both Canning and Blakeborough are quick to mention the support the program received from all sides: UFV supported the project from the very beginning in a myriad of ways, and also received unrelenting support from  the Pleasant View Care Home administration and staff, the Mission school board, and ES Richards Elementary school administration and teachers.
"We were so lucky that everyone was so on board with this project," Blakeborough says. "Everyone was just pulling together to make it happen."
Faced with 400 hours of footage now that the documentary is done, Blakeborough admits he feels a little lost.
"I don't even know what we're going to call it," he says with a wry grin. "At this point, there's a lot of pressure to do it justice. It was a great program, and we just want to make sure that the ideas and the relationships really shine through — that we can show our viewers that this matters."
You can see a full flickr gallery of the final recital here.