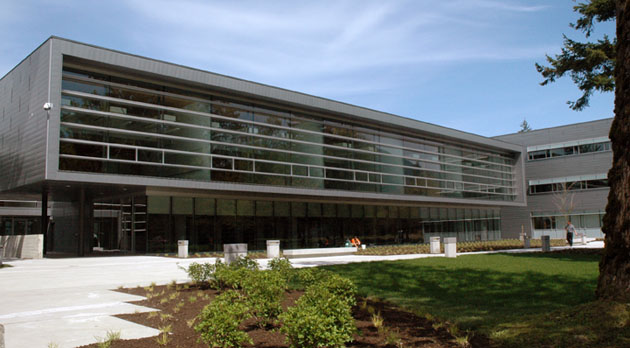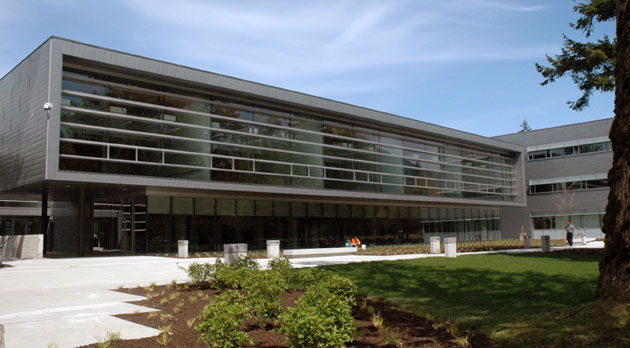 The move from the UFV Chilliwack campus on Yale Road to the Chilliwack campus at Canada Education Park (on Caen Avenue off Keith Wilson Road) continues.
If you are a student who will be taking UFV courses in Chilliwack in September, they will most likely be located at the Chilliwack campus at the Canada Education Park.  (A few technical theatre courses will be based at the Yale Road campus.) UFV's performance theatre will remain at the Yale Road campus for the immediate future. You can catch the annual season of theatre there, including Once in a Lifetime, Earnestine Shuswap Gets Her Trout, The Merchant of Venice, and the Directors' Festival.
Over the next two months, UFV will continue with its move (in stages) of services for the Chilliwack campus.
UFV's Chilliwack library will close for moving from Wednesday, June 13 to Monday, July 2, 2012. During that time, regular library service will be available in the Abbotsford campus library. No services will be available at the Chilliwack location during the move. The Chilliwack library will re-open at the new location on Tuesday, July 3.
Library staff are looking forward to working in the new library, which has floor-ceiling-windows, 38 study table seats, two group-study rooms, casual study space, a classroom-sized, 30-seat computer lab, and student and faculty services including Educational Technology Services, Information Technology, the Writing and Math centres and the Teaching and Learning department.
Check this web page for updates: http://www.ufv.ca/library/exhibits/wearemoving.htm
UFV Chilliwack Admissions and Records and Student Services will be closed for moving from Fri, June 22 through Wed, June 27 for the big move, and will reopen Thurs, June 28 at the new location at Canada Education Park.
There will be limited Admissions and Records service from 9 am to 4 pm at the office at the Trades and Technology Centre at CEP during this time (but closed 12:30 to 1:30 for lunch).
UFV's Faculty of Health Sciences office and reception will be closed for moving from Wednesday, June 20, to Friday, June 22. Due to the demands of packing, and getting up and running at the new location, limited service will be available on June 18 and 19 and June 25 and 26.
UFV's Agriculture department offices will move in mid-July. Exact office closure dates have not yet been determined.
UFV's new building is located at 45190 Caen Avenue at the Canada Education Park, off of Keith Wilson Road. To find UFV's the new building, you have several entry options. If you enter the CEP grounds at Keith Wilson and Dieppe Street, drive south on Dieppe Street and turn right on Caen Ave.  If driving from Abbotsford, take the Evans Road exit and head south on Evans until it turns into Tyson by veering to the left. Continue on Tyson until you reach Keith Wilson Road. Cross here and you will enter the Canada Education Park. You will see the UFV Trades and Technology Centre (TTC) on the right. Continue along south on Tyson (past the TTC), and turn left on Caen Ave.
The new UFV building has a dark grey exterior. There is currently parking to the south and east of the building. Do not park in the RCMP training centre lot north of the building. Pay parking will be in effect in UFV lots soon.
UFV is moving most of its Chilliwack programs and services from its Yale Road campus to its new building on the Canada Education Park. The Yale Road campus is for sale. The performance theatre will remain at the Yale Road campus for the near future.
To view photos of the Chilliwack campus at the Canada Education Park, follow this link:
http://goo.gl/Umt4i
-30 –