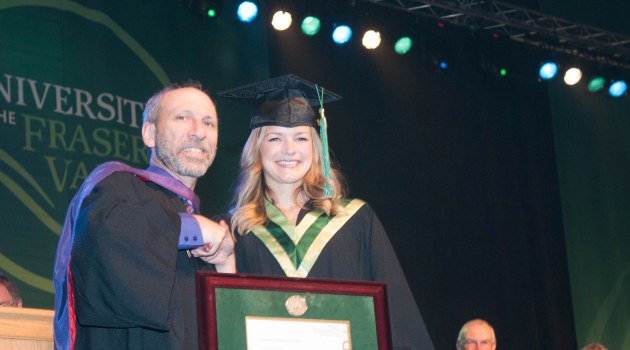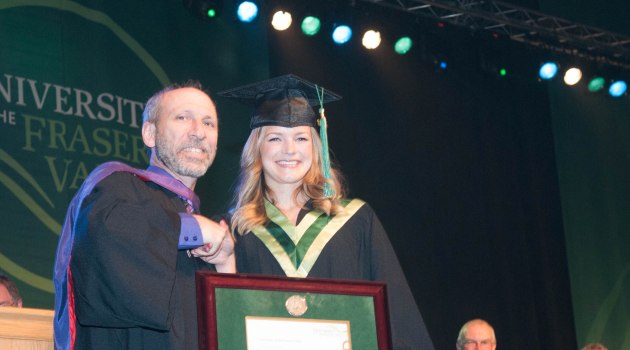 Kyriel Funk of Abbotsford almost didn't find out she won the Lieutenant Governor's medal this year.
"I'd paid my tuition online but I'd made a mistake and was $36 short," she says with a laugh, "so when I saw that I had a voicemail from UFV, I didn't even listen to it. I just raced to registration to pay before they dropped me from my classes. It took me forever to actually realize I'd won."
Luckily, she eventually listened to the message and realized they weren't kicking her out of classes, but giving her an award for a combination of citizenship and high GPA.
Funk finished the 10-month Certified Dental Assistant program at UFV this year and is currently finishing her practicum at the Venier dental clinic in Abbotsford.
Rosie Friesen, one of Funk's professors in the program, nominated Funk for the award. The Lieutenant Governor's medal, she says, is as much about having enthusiasm and a positive attitude as it is about scoring top grades — something Funk exemplifies.
"Kyriel was the recipient of two other awards this year: the Overall Outstanding Achievement Award in Dental Assisting as well as the Award for Excellence presented by the Certified Dental Assistants of BC," Friesen says. "Like the Lieutenant Governor's medal, these awards are given to a student who demonstrates exceptional academic and clinical skills, as well as a high level of professionalism, ethics, and a spirit of cooperation."
"Kyriel is an exemplary role model," Friesen adds. "She's selfless in that she's striving for excellence, but she's absolutely dedicated to other students in terms of mentorship. You never get the sense she's in it for herself  — she's in it for others."
Funk is quick to agree. Although her interest in dental work was sparked after her own experience with orthodontics when she was younger, Funk hopes to put her new skills to use in Africa. She and her husband have volunteered with Seeds of Hope Children's Ministry in Zambia, and she can't wait to go back and give help where it's needed.
"It's a really amazing organization that's doing wonderful things to support kids," Funk says. "They send dental teams every year or so, so I hope to be on the next one."
Funk loved every minute of the dental assistant program, and she recommends UFV to any student thinking about taking up scrubs and dental tools.
"We got to be hands on from day one — we were in the clinic during the very first class, and were in the clinic all semester. We really have an advantage at UFV because we get that hands-on experience," Funk explains.
"From day one we had the attitude of a team," she adds, "and the approach that if somebody got behind then we would do what we had to so they could catch up. Everyone was willing to help out."
However, she admits that it did take a lot of work. "You have to be pretty focused on your work during school," she explains, "and there's not a lot of time to do much else."
Despite a tight schedule, however, Funk found time over the year to volunteer with a variety of activities through the program: she's participated in information sessions at UFV, taken a leadership role in the classroom as class representative, and volunteered at elementary schools to demonstrate proper oral hygiene to schoolchildren.
But as with all things, it's a balance; Funk mentions a couple of weekends spent scrapbooking as well as the opportunity to spend time at Cultus as activities that helped keep her relaxed and on target. And as a newlywed, she extends profuse gratitude to her husband.
"My husband has been so supportive," Funk says. "He was totally willing to take over if I said 'I have homework!'  He'd clean the house, make me dinner — he was really wonderful."
Funk looks forward to working as a dental assistant in the Fraser valley for a few more years, hopefully travelling to Zambia to volunteer, and eventually starting a family. She will be receiving both her medal and her certificate this week at UFV's Convocation ceremonies at the Abbotsford Sports and Entertainment Centre.
And her advice to students entering the program for next year?
"Always try your best," Funk says with a smile. "The beginning of the program is pretty intense, but if you work hard and really put the time in, it's all worth it. You can make it happen."