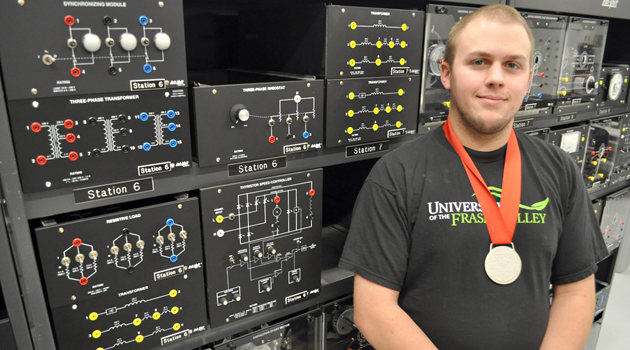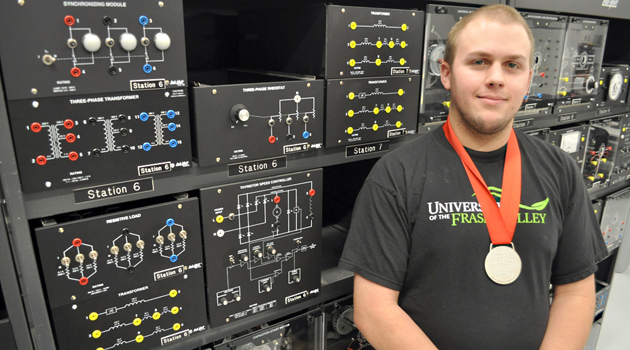 A UFV student has proved himself as one of the country's top electrical apprentices in training.
Gordon Kearns recently won the silver medal at the Skills Canada national competition in Edmonton.
The 21-year-old Chilliwack resident, who grew up in Boston Bar, placed second in the category of post-secondary electrical installations.
Competing against the top students across Canada, Kearns had to showcase his talent during a two-day challenge.
He was able to compete at the event after taking home the gold medal at the provincial competition at Abbotsford Tradex in mid-April.
"It was quite the feeling of accomplishment," said Kearns, who is halfway through the four-year electrical apprenticeship program at UFV's Trades and Technology Centre in Chilliwack.
The challenges at both the provincial and national levels were similar.
At the Abbotsford Tradex, Kearns was competing against 11 other students in the post-secondary category. They had 6.5 hours to complete the same task.
"It was really intense — there were lots of cameras and people watching and making comments," said Kearns. "It was very stressful."
Kearns was told that it was his accuracy that won him the gold. With an allowed tolerance of being out by three millimetres on measurements, he was "bang on every time."
At the Edmonton Expo Centre from May 13–16, the scene was very similar, but on a larger scale. The nation-wide competition brought together the best students from each province to compete in different categories.
Kearns was given two six-hour days to work on a large wall that was formatted to imitate different scenarios, such as a house or an industrial environment. He wired lights, switches, smoke detectors, bathroom fans, and timers.
"I feel like it was really nerve-wracking, but it was exciting and exhilarating at the same time," said Kearns, who didn't think he would end up on the podium as he had only trained for two weeks. He simply wanted to see where his skill level was compared to other apprentices in training.
"I think the competition is a good challenge, and a great way to get young people interested in trades and technology," said Kearns.
The willingness to put himself up for a challenge and to compete is just one of the qualities that makes Kearns a top student, said UFV instructor Rod McLeod.
 "He is one of those people who is a go getter," said McLeod. "He takes the initiative to do the jobs that need to get done, which serves him well in this industry."
Not only will the award help open doors for Kearns down the road, but it also showcases the strengths of the UFV program.
"It reflects the fact that we're training people with the right industry skills, so they can go to work and build on those abilities," said McLeod.