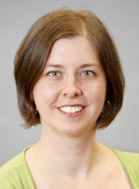 After nearly six years as director of development for UFV, Lindsay Follett will step down from her role as of April 30. Lindsay is the mother of two young boys, and made the decision in March to spend more time with them.
"This was a very hard decision to make," says Lindsay. "UFV has been a great place to work and I've learned a tremendous amount.  I will really miss the people I've had the chance to work with."
"Lindsay has led the Development office through years of incredible change for UFV," says Karola Stinson, vice-president, External. "I sincerely thank her for all she has done, and wish her all the best."
"In large part, the advances we now see in the Development office and in the Alumni Relations office at UFV are due to Lindsay's leadership," says Nancy Armitage, manager of Alumni Relations. "Lindsay's insights and actions will forever positively change the way UFV engages and stewards our donors and alumni."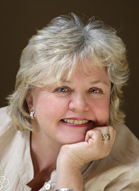 Madeleine Hardin has accepted a one-year interim appointment to become the executive director, Alumni and Development, at the request of President Mark Evered, effective May 1. Madeleine is currently the associate dean of faculty in the College of Arts. She will continue in both roles until a new appointment for the associate dean position takes place.
"I'm grateful to Mark Evered for the opportunity to have a hand in shaping the future of UFV," says Madeleine. "I am ambitious for our university as I know our future is great. I look forward to working with all of you to realize our dreams for UFV."
Madeleine has been at UFV since 1989, teaching courses in professional and advocacy writing in the Communication department. In her early years at FVC and UCFV she also taught in the Media and Communication Studies department and taught mass communication and advertising. Prior to coming to UFV, she was the publicist for CBC TV western region and researcher and writer for CBC TV News on the assignment desk. Madeleine left CBC to raise her two sons, but found her freelance career as a researcher for TV programs such as Beachcombers and Danger Bay, which later blossomed into a fundraising career when she was hired to raise $6 million for the Vancouver Aquarium. Over the past two decades Madeleine has raised over $10 million for various non-profit organizations including UFV's Centre for Indo-Canadian Studies; the Clayburn Schoolhouse restoration; and the Xa:ytem Longhouse Interpretive Centre. She was active in the Plan A initiative and is a founding board member of the Reach Gallery Museum in Abbotsford.