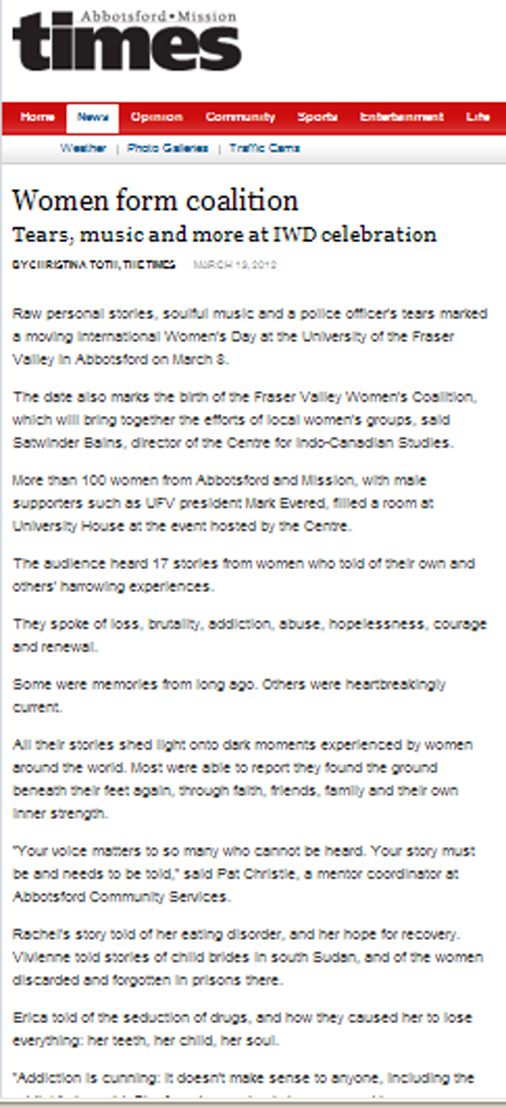 The Abbotsford Mission Times recently featured UFV's event celebrating International Women's Day. Read the article below:
Women form coalition
Tears, music and more at IWD celebration
By Christina Toth, The Times March 13, 2012
Raw personal stories, soulful music and a police officer's tears marked a moving International Women's Day at the University of the Fraser Valley in Abbotsford on March 8.
The date also marks the birth of the Fraser Valley Women's Coalition, which will bring together the efforts of local women's groups, said Satwinder Bains, director of the Centre for Indo-Canadian Studies.
More than 100 women from Abbotsford and Mission, with male supporters such as UFV president Mark Evered, filled a room at University House at the event hosted by the Centre.
The audience heard 17 stories from women who told of their own and others' harrowing experiences.
They spoke of loss, brutality, addiction, abuse, hopelessness, courage and renewal.
Some were memories from long ago. Others were heartbreakingly current.
All their stories shed light onto dark moments experienced by women around the world. Most were able to report they found the ground beneath their feet again, through faith, friends, family and their own inner strength.
"Your voice matters to so many who cannot be heard. Your story must be and needs to be told," said Pat Christie, a mentor coordinator at Abbotsford Community Services.
Rachel's story told of her eating disorder, and her hope for recovery. Vivienne told stories of child brides in south Sudan, and of the women discarded and forgotten in prisons there.
Erica told of the seduction of drugs, and how they caused her to lose everything: her teeth, her child, her soul.
"Addiction is cunning: it doesn't make sense to anyone, including the addict," she said. She found a way back, however, and is now an outreach worker at Abbotsford's Warm Zone.
"I know what it means to overcome, and what fortitude means," she said. Her audience gave her a standing ovation.
Const. Tonya Dupuis, the first detective in the Abbotsford Police domestic violence unit, shed tears when she praised the women for sharing their stories.
"We do care, we do listen," said the 15year APD officer. "I've talked to children who watched their mothers get doused in kerosene. I've talked to women who have choked by telephone cords to the point of leaving their bodies."
What all the storytellers showed in the end, was that the women had the strength to live, to survive and thrive, and that there were many who were ready to help them.
"We wanted to celebrate International Women's Day with stories that not only told the naked and harsh truth but also to show the inspiration behind the strength of the woman's life," said Bains.
The FVWC has three aims: to address how the media portrays women and their issues; to create a sense of community for all women in the valley; and to actively affect government policy.
"Each member will bring their strength to the table and take on tasks to do what they can to further the cause both individually and as a coalition. We need one voice of many," said Bains.
Women's groups and individuals are invited to join. The coalition's first meeting will be at 2 p.m. on April 4, at UFV Abbotsford's University House .
– See photos of Friday's event in Thursday's Scene in the City in the Times.
CToth@abbotsfordtimes.com
© Copyright (c) Abbotsford Times
Read more: http://www.abbotsfordtimes.com/Women+form+coalition/6293330/story.html#ixzz1p6rbEofx