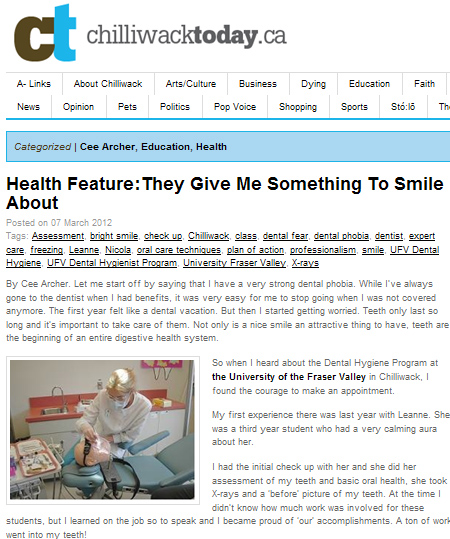 This article/review highlighting the work of the UFV Dental Hygiene students was recently featured on Chilliwack Today.
Read the full story below:
By Cee Archer.
Let me start off by saying that I have a very strong dental phobia. While I've always gone to the dentist when I had benefits, it was very easy for me to stop going when I was not covered anymore. The first year felt like a dental vacation. But then I started getting worried. Teeth only last so long and it's important to take care of them. Not only is a nice smile an attractive thing to have, teeth are the beginning of an entire digestive health system.
So when I heard about the Dental Hygiene Program at the University of the Fraser Valley in Chilliwack, I found the courage to make an appointment.
My first experience there was last year with Leanne. She was a third year student who had a very calming aura about her.
I had the initial check up with her and she did her assessment of my teeth and basic oral health, she took X-rays and a 'before' picture of my teeth. At the time I didn't know how much work was involved for these students, but I learned on the job so to speak and I became proud of 'our' accomplishments. A ton of work went into my teeth!
My teeth were in sad shape I'm afraid to say. But Leanne was not put off by them, instead she started her plan of action and was humming tunes while she worked on me. On a regular basis she had to stop, make notes and mark things down and at the end of each session her teacher would come and check on Leanne's work.
I had six appointments in total with Leanne. I started looking forward to her humming tunes and to the feeling of pride in my teeth I felt afterwards. We opted to go with freezing and though the thought of a needle petrified me, Leanne, under the watchful eye of a dentist volunteer, did an amazingly good job!
In spite of my fear, I made it to all the appointments and Leanne gave me back my healthy smile. I felt I actually learned a lot about the latest oral care techniques and left with some cool tools to keep up my oral care at home. And Leanne has the 'after' picture to prove all the work she did paid off!
This year I returned and met Nicola. Once again an assessment was taken, a general plan of action was created and Nicola explained it all to me before we started.
Again I was very impressed with the caliber of students there. Nicole was as caring, as sympathetic, as careful and as professional as I had found Leanne to be.
And by listening to the sounds around me, it became apparent that this is part of the expectation of care at the UFV Dental Hygienist program.
Nicola had an easier time with my teeth as they were not nearly as bad as they were when Leanne worked on them last year. The bit of plaque that had returned since, was expertly removed and this time there was no freezing needed. I made the decision to have us try without freezing solely based on the confidence and the calm that exuded from Nicola.
Nicola won't know how huge that was for me. To even be able to make each appointment required a big commitment on my part, as unfortunately my dental fear is very deeply rooted. However, knowing that I was not only in great hands, but also in very caring hands at that, made it easier.
I can't say enough about the care that these students show to their patients. Their work is top notch; if there were no teachers present I would have never known that both my dental hygienists were students. And listening to what they were doing and seeing the notations made, and the work checked, I am very impressed with the work that goes into learning how to become a dental hygienist and what an impressive career choice this is!
I trust Leanne is now working at a dental office and is continuing to offer her expert care that she learned at the University. And I know that Nicola will soon do the same.
I can honestly say that even with my dental phobia, this school can count on me as a patient for as long as they'll have me!
If you see someone pass you with a brilliant smile, chances are it's me!
Thanks Nicola!