March 26 to 30 is Turn it Off Week at the UFV Abbotsford campus
March 26 to 30 is Turn it Off Week at the UFV Abbotsford campus
The last week in March is Turn it Off Week on campus. It's easy to join in. Just turn off the lights when you are the last to leave a room.  Turn off your computer monitors when you're away for lunch. And turn everything you can off when you're done for the day.
Turn it Off Week Events and Activities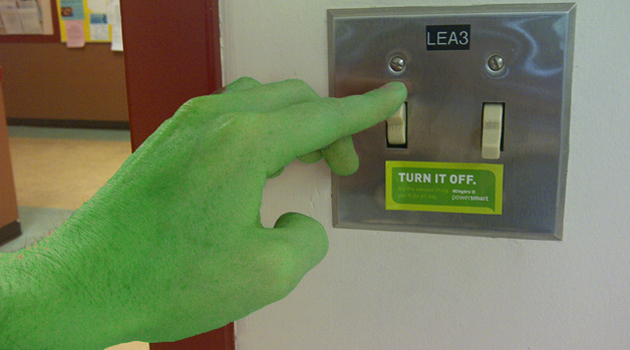 All week: Get Caught Green Handed campaign, with prizes for students, staff and faculty.  UFV's Green Team members will be looking to 'catch you green handed'!  Get caught:
Turning off the lights when you are last to leave a room
Turning off your monitor when you are away for more than 15 minutes
Turning off your computer at the end of the day.
Other green activities, such as biking to campus, recycling, and using re-usable containers count too!
Got caught green handed?  You'll know when you find a green ticket at your desk or are handed one by a green team member. Use the ticket to enter to win one of several prizes including a night out at the movies, dinner for two at Finnegan's Grill, gift cards to your local grocery store, and lots of greenUFV swag.
You can also enter the contest by uploading a photo of you or a colleague or a fellow student committing a "green act" to the UFV Facebook page [LINK to http://www.facebook.com/goUFV].  Make sure to name your photo "I got caught green handed."
Wed, March 28:  Stop by the library entrance between 11:30 and 1:30, eat green cupcakes and sign the UFV green pledge.
Turn it Off Week is an initiative of the greenUFV program, working to use less, reduce waste, and green the UFV campus.
Interested in joining the Green Team or helping with the campaign?  We're always looking for new members.  Send us an email at energy@ufv.ca.