Vicki Gabereau is returning to campus to share a few of her stories and life experiences.  The veteran radio and TV personality was last on campus for the 2011 Convocation ceremonies, where she wowed the crowd with her address to Arts graduates.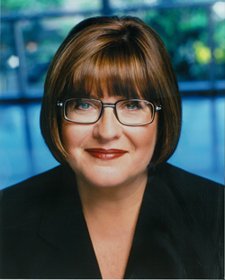 Gabereau returns for Gabbing with Gabereau, the latest instalment of the President's 2012 Leadership Lecture Series at UFV.  She will speak on Thurs, March 22, at 4:30 pm in Room B101 on the Abbotsford campus. Admission is free and the public is welcome. The lecture series is a way for UFV president Mark Evered to bring in speakers that he feels will be of special interest to Fraser Valley communities.
While many in the current student generation are too young to remember Gabereau's heyday as a host of her own CBC radio and CTV television shows, her sage advice, delivered with a wallop of her trademark humour, won over the audience at Convocation.
The Canadian radio and television personality and 2011 UFV honorary degree recipient has had a varied career.  She's been professional clown, community and CBC radio talk show host, and CTV television personality, in addition to her roles as wife and mother.
More recently, she's been filling her days with speaking engagements, fundraising for the Knowledge network, and serving as ICBC's reluctant demystifier of car insurance.
Her entertaining stories recounting how she achieved her level of success will resonate with students and community members alike.
Through all these roles, Vicki's wit and colourful personality shines. She lives by her message to students at Convocation:  "Life is one big learning curve and you have to keep learning every day of 
your life."
Students, faculty and staff, alumni, and members of the community are invited to come to this informal, interactive session with Vicki and host Justin P. Goodrich, a student and member of the UFV Board of Governors. Bring your questions and be prepared to be entertained!