It's all about making connections.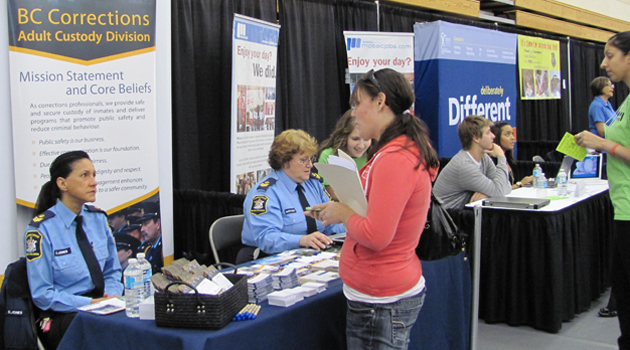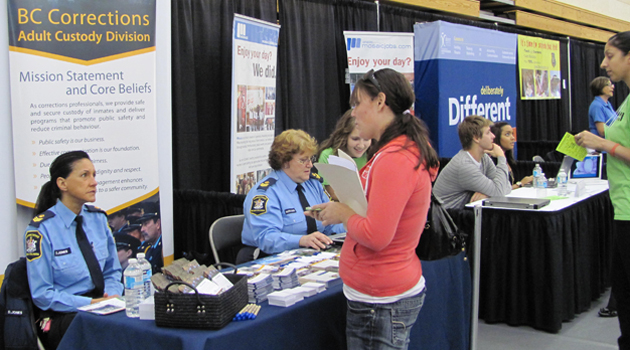 UFV will be hosting its annual career fair on Wednesday, March 7, and organizer So Jeon of the UFV Career Centre is inviting students to expand their horizons when thinking about potential employers.
"We really want students to visit a variety of companies and organizations as they tour the booths and displays," she notes. "Regardless of what you are studying, you will be surprised by the various career paths available in different companies that may require your skills. The research and critical thinking skills you gain in your studies are transferrable to a number of fields."
These are tough economic times and it's harder to get a job than it used to be, but Jeon says that makes it even more important to come out and network at the Career Fair.
"You never know where your next summer job or your first career job will come from. The more connections you make, the more you get your name and resume out there, the better the chances that you'll succeed in finding the right fit for you."
The Career Fair runs in the UFV Envision Athletic Centre from 2 to 6 pm on Wed, March 7. Members of the public and UFV alumni are invited to attend. Admission is free.
Participants are also invited to take part in special Ignite Your Interview Skills one-on-one mock interview sessions from 2:30 to 5 pm.
Current students who register for the Career Fair ahead of time have the chance to win an iPad. https://www.ufv.ca/Jobs/Career_Fair/Registration_2012.htm
Questions? Call the Career Centre at 604.854.4507.
Employee exhibitors come from a range of industries including the financial sector, community and social services, criminal justice, agriculture, health and fitness, and business (newly added exhibitors in green)
Exhibitors include:
Abbotsford Community Services
Abbotsford Police Department
Adler School of Professional Psychology
Aldergrove Credit Union
Arbonne International
BC Corrections
Boucher Institute of Naturopathic Medicine
British Columbia Institute of Technology
Budget Rent a Car of B.C. Ltd.
Cactus Club Cafe
Canadian Cancer Society — BC & Yukon Division
The Centre for Epilepsy & Seizure Education
Certified General Accountants Association of BC
Certified Management Accountants of BC
Chartered Accountants Association of BC
CIBC
Cintas Canada
Cnawlece Incorporated
Communitas Supportive Care
Correctional Service of Canada
Costco Wholesale
Cultus Lake Waterpark
The Elizabeth Fry Society of Greater Vancouver
Farm Credit Canada
Fraser Health
GoodLife Fitness
Hess Education Canada
HUB International Insurance Brokers
Innovative Fitness
Insurance Institute — Career Connections
Investors Group Financial
Langbroek, Louwerse & Thiessen LLP
Ministry for Children and Family Development
MNP LLP
OfficeTeam
Options Community Services Society
Prospera Centre
Prospera Credit Union
PRT Growing Services Ltd.
RBC Royal Bank of Canada
Royal Canadian Mounted Police (RCMP)
Ritchie Smith Feeds, Inc.
Service Canada
SFU Beedie School of Business
Simon Fraser University – Surrey Campus
Soprema Incorporated
South Coast British Columbia Transportation Authority Police (Transit Police)
St. John Ambulance
Sun Life Financial
TD Canada Trust
Tutor Doctor
UBC Master of Management
UBC Sauder School of Business, Diploma in Accounting Program
Vancouver Fire & Rescue Services
Vector Marketing
VersaCold Group / EV Logistics
West Coast College of Massage Therapy
The silver sponsor for the Career Fair is the Certified General Accountants Association of BC.
Campus partners include the Student Union Society, CIVL Radio, and Infinite Marketing, a group of business administration students that helped marketing for the event.