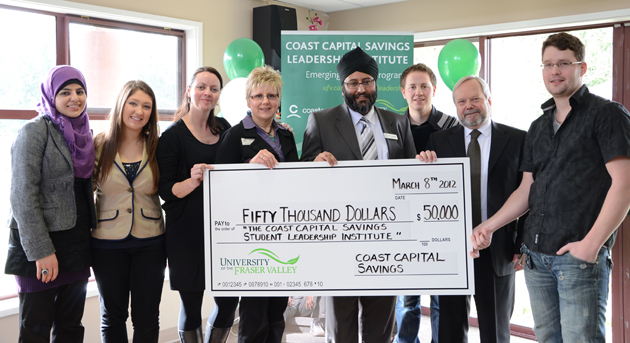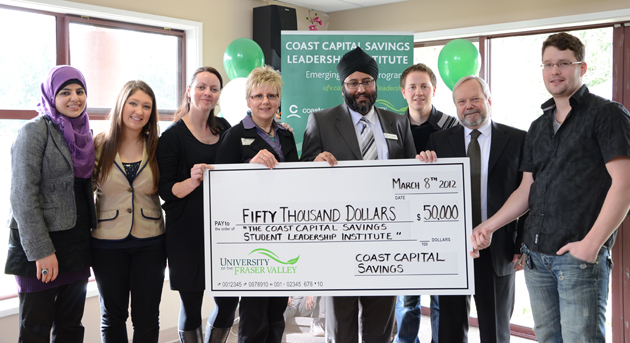 Student leadership will continue to thrive at the University of the Fraser Valley, thanks to a $50,000 contribution from Coast Capital Savings, Canada's second-largest credit union.
The funding is part of an ongoing partnership between the University of the Fraser Valley and Coast Capital Savings that has been helping to foster the development of leaders at the university for the past three years (the latest donation is in addition to an earlier gift from Coast Capital of $150,000 over three years). The credit union's $50,000 investment will allow the Coast Capital Student Leadership Institute, a UFV Student Life initiative, to continue through this academic year.
"We are very happy to see a community partner such as Coast Capital Savings recognizing the importance of encouraging personal development for our students," said UFV president Mark Evered. "It is partnerships such as this that help our university to provide a truly enriching environment."
Wendy Lachance, director, community leadership, for Coast Capital Savings, said the credit union is pleased to continue its investment in leadership development at the university.
"At Coast Capital Savings, we have a strong commitment to help build a richer future for youth in our community and we know one of the ways we can accomplish this is by supporting student education," Lachance said. "This is a fitting program for us to invest in because it does not just focus on the acquisition of academic knowledge but also the development of the leadership and life skills that will serve as the foundation for future success."
Initiatives that will be funded by Coast Capital's contribution include the Student Leadership Challenge program; internal and external student leadership conferences and retreats; The Standout, a magazine highlighting student and alumni leaders; the Leadership Speaker Series, and an Evening of Recognition event.
"This funding goes to support our leadership programming along with a part-time leadership program assistant staff position," said UFV Student Life director Susan Francis. "Without this funding and support we would not be able to offer our very successful leadership programming."
Francis said university is about much more than hitting the books and sitting in class, adding that students who immerse themselves in other opportunities that campus life offers are enriched by the experience and become more well-rounded individuals. They also develop important leadership skills that serve them well in their careers and lives.
She said this year the leadership initiative is looking at ways to engage specific sectors of the student populations, such as Indo-Canadian, Aboriginal, and Mennonite students, and to connect student leaders to local community development projects (e.g., at-risk youth, poverty reduction, agriculture and food security, water issues).
Jenia Pyzhyanova is a UFV business student currently working as the marketing assistant in a co-op student position for UFV Student Life's Coast Capital Savings Student leadership institute.  At a recognition ceremony for Coast Capital held in the Student Life centre on the Abbotsford campus, she described how in her first year at UFV she was a shy student afraid to reach out and get involved, and how the opportunities offered through the Coast Capital Student Leadership Institute helped her to develop leadership skills and confidence.
"UFV Student Life and Coast Capital Savings have helped me develop my leadership skills and confidence," Pyzhyanova said. "I have now been able to take what I have learned and become an active leader on campus."
Pyzhyanova said she started by being an orientation leader (despite not liking public speaking), then after taking part in the Student Leadership Institute, became a regular volunteer at campus events. Since then, she has taken on leadership roles in clubs and associations and represented the university at the National Conference on Student Leadership (NCSL) in Atlanta, and also helped organize UFV's annual Leadership Summer Retreat.
Coast Capital Savings Credit Union is Canada's second largest credit union with total assets under administration of $13.5 billion, 475,000 members, and 51 branches in the Metro Vancouver, Fraser Valley, and Vancouver Island regions of British Columbia. Product innovations include Canada's first free chequing account from a full-service financial institution and the country's most flexible mortgage product, the You're the Boss™ Mortgage, which was named 2010 Mortgage of the Year by canadianmortgagetrends.com. Coast Capital offers one of Canada's 10 Most Admired Corporate Cultures™. It is a member of Canada's Best Managed Companies Platinum Club and an Imagine Canada Caring Company. To learn more, visit www.coastcapitalsavings.com .
-30-