Call it taking one for the team.
Professor Darren Blakeborough of Social, Cultural, and Media Studies was the ultimate good sport, and subjected himself to Daylight SHAVINGS Time, a fundraiser for the Devon Clifford Foundation (which supports community music initiatives).
On March 12 at AfterMath, there was a draw for the privilege of shaving Darren's trademark goatee off. As part of the deal, the heavy metal enthusiast had to have  wardrobe makeover too, to something a tad more middle-aged and professorial.
A portion of the proceeds will be donated to the
Devon Clifford foundation
.
The goal of the Devon R. B. Clifford Memorial Foundation is to provide music lessons for teens and young adults who are financially disadvantaged. It is named in honour of Devon Clifford, drummer for the band You Say Party, who grew up in Abbotsford. The Foundation is currently sponsoring lessons for eight students in a ten-week Rock Camp. The foundation will provide continued private lessons for those students that show talent and commitment.
Feeling transformed? Chilly? Nerdy?
Yes, but in an odd not sure how to feel kind of transformation. My face is SOOO cold! I'm not me.
How do you feel in your new incarnation?
I feel lost. I catch glimpses of myself in mirrors and windows and gasp "who the hell is that"??? Then I weep silently.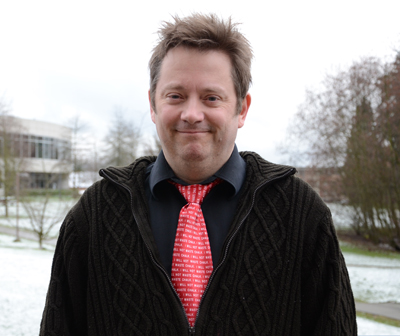 Where did Daylight Shavings Time idea come from and why did you say yes?
Last year I talked to a few students about getting a student group going for MACS (Media and Communication Studies). I asked what would motivate them to do so and one mentioned that if I would shave they would make sure the group happened. It didn't happen last year and this year the idea came up again and I agreed. It was decided that we would link it to daylight savings and someone came up with the name. perfect fit. We also talked about a charity to raise for and the students agreed on the Devin Clifford foundation and I loved the idea because in an age of fiscal restraint in schools and cuts to the arts, MUSIC MATTERS…my face is cold.
What parts of your new persona are you keeping and what will you be ditching asap?
Well, for this week anyway I am going to own it. I have on a tie and am wearing a cardigan today in order to flaunt my professorial aesthetic but I imagine that next week will see the return of the Metal T-shirts and some stubble.
 Growing the goatee back? How long will it take?
It's already 14 hours in to being back. I imagine that it will take 2 months before I feel comfortable again. 2 long, nerdy months. Time to brush up on my D&D.
The many faces of Darren Blakeborough
http://www.flickr.com/photos/ufv/sets/72157629213612630/