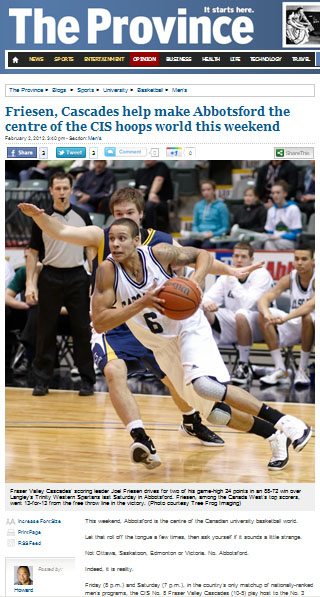 The Province recently highlighted an upcoming match between the UFV Cascades men's basketball team  and the UBC Thunderbirds.
Friesen, Cascades help make Abbotsford the centre of the CIS hoops world this weekend
This weekend, Abbotsford is the centre of the Canadian university basketball world.
Let that roll off the tongue a few times, then ask yourself if it sounds a little strange.
Not Ottawa, Saskatoon, Edmonton or Victoria. No. Abbotsford.
Indeed, it is reality.
Friday (8 p.m.) and Saturday (7 p.m.), in the country's only matchup of nationally-ranked men's programs, the CIS No. 8 Fraser Valley Cascades (10-5) play host to the No. 3 UBC Thunderbirds (12-2) at the Envision Athletic Centre.
In the stretch drive of the Canada West's 18-game regular season, with first place in the Pacific Division still to be determined and No. 7 Victoria (11-3) smack dab in the middle of it all, it's the kind of competitive atmosphere that Cascades head coach Barnaby Craddock and 2008 recruit Joel Friesen each believed was possible when they signed on a to help lead a former college program into Canada's top level of university competition.
And considering the credentials they arrived with and what they have come to represent within the program, perhaps it's no surprise that the Cascades have continued to improve each season in a conference that regularly fields at least half of the country's Top 10-ranked teams.
"Joel deciding to come here, seeing the light here, was the starting point for our program," explains Craddock of the fact that Friesen, the 2008 B.C. High School Triple A MVP from neighbouring Yale Secondary, chose to play for the Cascades after leading his team to the B.C. title as the concensus choice as the best guard in the B.C. prep ranks that season.
"It was about saying that if we could get the best kids in the Fraser Valley, with the great high school coaches developing them, that we could be a nationally-competitive program," continued Craddock, who himself chose to come to UFV for the 2007-08 season, just months after he led Brandon to a spot in the national final and was named CIS Coach of the Year. "Joel saw all of that and everything has gone in the right direction since. And I think you're going to see more of that with our next recruiting class."
Indeed Craddock's 2008 recruiting class was a bumper crop.
Not only did it yield the 6-foot-4 Friesen, the team's leading scorer (16.4 points per game), but also fellow guard Sam Freeman (15.1 ppg) from Coquitlam's Dr. Charles Best, and forward Jasper Moedt (11.1 ppg, rpg 7.3), the latter Friesen's former teammate at Yale. That trio along with Surrey-Enver Creek forward Kyle Grewal (14.6 ppg, 7.5 rpg) and point guard James York, a Montana Tech transfer, have been among the most essential ingredients to this season's success as team team's starting five.
"There have been a lot of ups and downs this season, just like in every season that I have been here," explains Friesen, a member of The Province's 2008 Head of the Class who was forced to sit out his 2008-09 freshman campaign after tearing up his knee just before the start of that season and thus is eligible for two more campaigns. "But as far as dealing with all of that as a squad, we've really started to trust in each other and work our best as a unit."
Always a player with highlight-reel ability on the offensive end of the floor, Friesen has since become a much more complete player, often times drawing the assignment of guarding the opposition's top scorer, a task this weekend that could pit him against UBC stars like Doug Plumb, Nathan Yu and Malcolm Williams.
"I think he is among the top defenders in our conference, and he has games where he shows his ability to rebound above the rim," Craddock says of Friesen, last season selected a Canada West all-star. "So when you put that together with his playmaking ability, and the fact that he can really score the basketball, he is one of those guys that can do a little bit of everything. That's what makes him special.
"Sometimes you see all of the raw potential and you want it all to be there instantly, but it's a process," continues Craddock. "He is an elite-level player who is still developing every week and becoming more consistent, and it's exciting to have a front-row seat to that."
For his part, Friesen is soaking up the atmosphere that comes in the lead-up to big weekends like this one, and in general, doing all of the little things that have helped keep the Cascades a part of the national rankings for 10 straight weeks since debuting at No. 7 in the preseason.
"I think it was exciting for us because it put us out there," Friesen explains of UFV's preseason ranking. "It is one of the things that drove us harder, pushed us to get up more shots after practice, and showed us that things weren't just going to happen for us because of talent. It was going to be about our work ethic and how hard we could push each other."
*In women's action, CIS No. 3-ranked UBC (12-2) also plays at second-place Fraser Valley (10-5) Friday (6 p.m.) and Saturday (5 p.m.). UBC is one win away from clinching first place in the Pacific Division.
Read the entire article here: http://blogs.theprovince.com/2012/02/02/friesen-cascades-help-make-abbotsford-the-centre-of-the-cis-hoops-world-this-weekend/