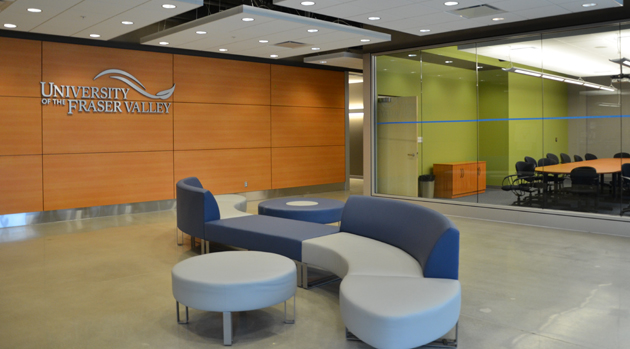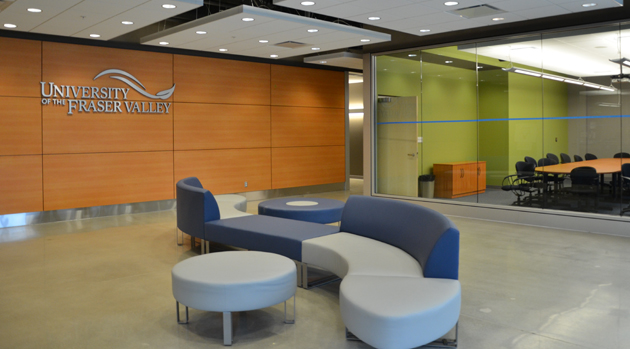 If you take a Continuing Studies course from the University of the Fraser Valley in Abbotsford, chances are that it will be at UFV's newest location.
UFV Continuing Studies has moved from the Marshall Road annex to a newly renovated space on the bottom floor of the Clearbrook library.
The Clearbrook centre provides 15,000 square feet and replaces the Marshall Road space. UFV's Applied Business Technology program is also now housed at the centre along with Continuing Studies, and it will be used by other UFV departments for special events and seminars.
UFV held a special opening ceremony for the centre on Tuesday, Feb 7.
This vibrant new centre of learning is close to Abbotsford City Hall, The Reach gallery, Abbotsford police headquarters, shopping and restaurants, and the library.
"This new facility provides the space and state-of-the-art equipment and amenities needed for us to provide educational opportunities and community liaison right in the heart of Abbotsford," said UFV president Mark Evered. "I am delighted that a partnership with the City of Abbotsford has enabled us to open this facility, and excited about the opportunities it provides. Continuing Studies is an important part of UFV's educational mandate, and our new Clearbrook centre will enable us to showcase it in a very professional manner."
Abbotsford mayor Bruce Banman is also enthusiastic about the new centre.
"The Clearbrook location provides an excellent opportunity for UFV to expand its programming and create synergies and learning opportunities for the people of Abbotsford," said Banman. "The centrally located campus connects UFV directly with the community, municipal services, and local businesses."
UFV Continuing Studies director Cheryl Isaac is delighted with the new space.
"This is a great location for us," says Isaac. "It's on transit routes and within five minutes walking distance of a bunch of civic facilities and many services and amenities. It will give a much higher profile to UFV Continuing Studies within the community. And we see a lot of opportunity for interaction and partnerships between Continuing Studies, our academic departments, and all of our new neighbours in the form of classes, events, workshops, and conferences.
"It's also just a very nice space. It's adjacent to the community garden, there is lots of natural light, and we're opening up spaces for students to study and just hang out."
You can find the UFV Clearbrook centre on the bottom floor of the Clearbrook library. The official address is 32355 Veterans Way.
For more information about UFV Continuing Studies offerings go to ufv.ca/cs. To find out about the Applied Business Technology office training program, go to ufv.ca/abt.