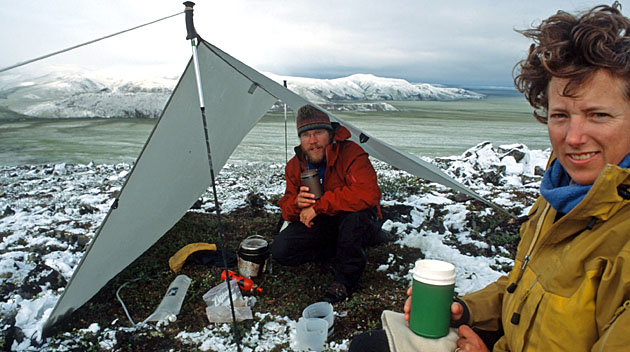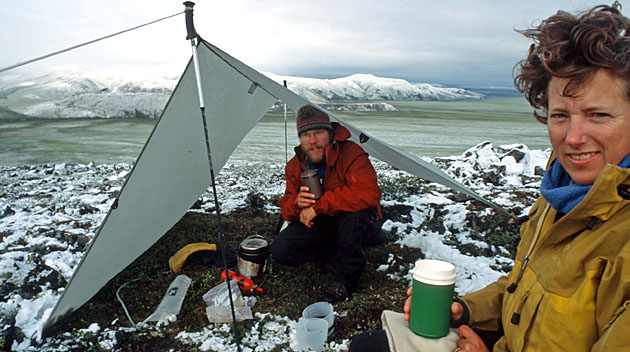 From migrating with a herd of caribou, to trekking across the country with their two-year-old son, a Canadian couple will be sharing their stories of adventure with an audience at the University of the Fraser Valley next week.
Park ranger and writer Karsten Heuer and filmmaker Leanne Allison will be speaking about their unique experiences at UFV's President's Lecture Series on Wednesday, Feb 29 at 4 p.m. in room B101 at UFV Abbotsford.
Titled Necessary Journeys, the lecture will explore the art of storytelling and adventure.
Over the past 15 years, Heuer and Allison have walked, paddled, skied and sailed more than 10,000 kilometres in an attempt to better understand North American wildlife. In 1998 and 1999, they walked from Yellowstone to the Yukon, a project they titled Y2Y. In 2003, they skied and trekked for five months amidst a herd of 123,000 caribou. They titled their subsequent book and documentary Being Caribou. And in 2007, they canoed and sailed with their two-year-old son across the country to visit one of their ageing heroes, Canadian author Farley Mowat. The documentary is called Finding Farley.
Most recently, Allison created an interactive project titled Bear 71, which provides a first-hand view of life as a bear in Banff National Park. The film recently premiered at the Sundance Film Festival.
"We've really embraced the idea of creating change through the power of stories," said Allison. "Maybe it wasn't something that we intentionally set out to do, but the process of these long journeys, and the process of crafting stories after — that's what we're hoping to share."
During the lecture, they will also be talking about the process of filmmaking versus writing. The couple, who reside in Canmore, Alberta, will be incorporating clips from their films and readings from their books.
Many of their works, in which they have partnered with the National Film Board, have garnered awards and international recognition.
Their book, Being Caribou, was recognized by The Globe and Mail as one of the Top 100 Books of 2006, won the Grand Prize at the Banff International Mountain Book Festival, and won the 2006 National Outdoor Book Award in the United States. The documentary won 11 national and international awards including a Gemini Award in 2006.
"We have both come to realize the importance of stories and compelling storytelling," said Allison. "For us, the message to get across in all of our projects was using the power of storytelling to highlight nature conservation. It's one thing to have an experience, but it's another thing to translate it into something meaningful to others."
For more information on Heuer and Allison, visit their website at http://www.beingcaribou.com/index.html