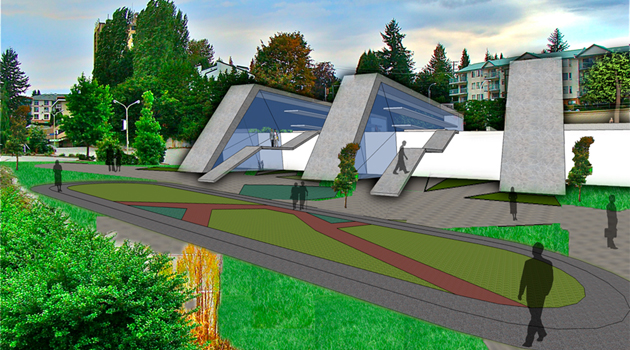 A UFV alumnus has a vision for Abbotsford's downtown core that reimagines it with some new and sustainable design concepts.
Scott Varga (BA '11) has entered a contest called Strip Appeal, put on by the University of Alberta, which asks participants to re-invent the standard North-American strip mall. While the winners are being selected by a jury of academics and professionals, Varga also has the chance to win the Public Choice Award if he garners enough votes by this Friday.
Focussing on Abbotsford's historic Five Corners neighbourhood, Varga envisions a hub for activities and foot passengers that would attract visitors throughout the week.
"Five Corners is the epitome of a suburb, with so many streets intersecting in one area, which reflects our dependency on cars," said Varga, who graduated from UFV in 2011 with a Bachelor of Arts degree in geography and visual arts and who now serves as a director on the UFV Alumni Association board.  "There's no neighbourhood feeling created in that area — it's not desirable."
He hopes to see an increase in small boutique businesses in the area, and has suggested urban gardening on rooftops, along with more park and green space.
"I want to see some change happen in Abbotsford, especially in the downtown region. I'm excited to think that change could happen, and we could see some positive traction through design possibilities."
His four-minute video presentation outlines his vision, which centres on renewal. Varga promotes building above, around and on top of existing structures so we can "learn from our mistakes," rather than bulldozing and creating new monuments.
"I'm looking at sustainability from a social standpoint, not just construction," said Varga.
The contest isn't the only project Varga is working on that involves the community. He is currently working on the Institutional Learning Outcomes project with UFV, where he is a part-time staff member.
The project invites faculty, staff, students and the community to join a dialogue that asks what knowledge, skills, abilities, and values UFV students should possess when they graduate.
With experience as a UFV student, and now as a staff member, the Abbotsford resident has empathy for all sides of the project.
"It really involves everyone in the community, and is about the betterment of our society. And we're trying to figure out what that looks like."
On Friday, Varga finds out if he has been selected as a winner in the Strip Appeal contest.
The winners will have their ideas, designs and videos showcased in a travelling exhibition and accompanying bookwork that will tour planning departments and architecture design schools across North America.
For more information on the contest, and to vote, visit www.strip-appeal.com/