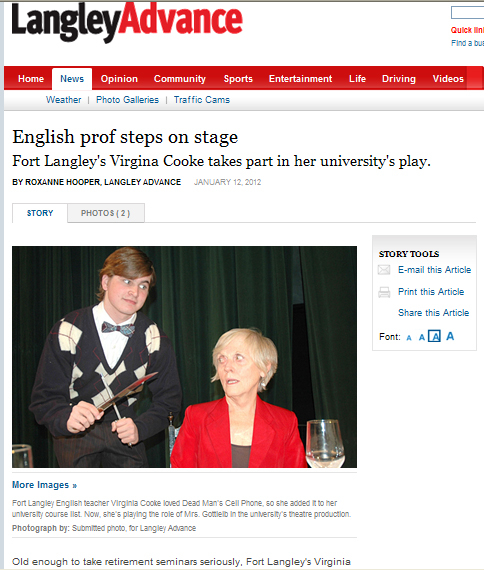 UFV's Virginia Cooke, who is playing a role in the production of Dead Man's Cell Phone, was recently featured in an article by the Langley Advance.
By Roxanne Hooper
Old enough to take retirement seminars seriously, Fort Langley's Virginia Cooke has no aspirations of growing up to be an actor.
But as a university English professor for the past 30 years, it seems somewhat fitting that she's playing the role of Mrs. Gottleib in the University of the Fraser Valley's upcoming production of Dead Man's Cell Phone. The play is being presented at the university's Chilliwack campus starting Friday, Jan. 13.
"I have always loved live theatre. Yes, I did perform in high school, both in theatre and music. But as an academic, I specialized in literature," Cooke told the Langley Advance.
"However, when I chose W.B. Yeats's drama as the subject of my PhD thesis, I also audited some graduate courses in practical theatre, as it seemed to me that anyone writing about drama needed to be familiar with the theatre, and be constantly reminded that drama does not consist only of 'words on a page'," she said.
As for this play, Cooke read it two years ago, and was so impressed she thought her students would find it intriguing, too.
She added it to her course list, and students "really responded to the work, and became very excited."
In fact, three of those students from her class are now among the technical crew in this production.
Needless to say, when UFV's theatre department announced plans to produce Dead Man, "I took a deep breath and auditioned," said Cooke, a 16-year resident of Fort Langley who shares her passion for the stage with her two son – Mason and Gavin.
Although almost all the cast in all UFV productions are students, when older players are needed, they will look further afield, and Cooke's grateful that opened a door for her involvement.
Cooke, while not a regular on the UFV stage, has been there before. About 10 years ago, she played a role in If We Are Women.
"I loved the experience, but it was extremely difficult to juggle the demands with my teaching schedule," she said, admitting it the juggling act is fine short term, but limits her ongoing involvement in productions.
Asked how rehearsals and performances for this production fit around all her other personal and work obligations, Cooke responded: "They don't fit very well, but I can make it work for a limited time. And fortunately, my husband (John Potts), who loves both the theatre and me, is willing to pick up the slack."
Then asked what's been the best part about being involved in this production, Cooke said: "Without a doubt, it's watching these very talented students grow and thrive in the play. Of course, it's also satisfying to get to know a play from the inside out. And the character I play is great fun because she is the quintessential terrible mother."
Dead Man's Cell Phone is being directed by UFV theatre department head Dr. Bruce Kirkley.
In an ensemble composed mainly of UFV theatre students, casting is as follows: Jean, the accidental protagonist in Dead Man's Cell Phone, will be played by Renee Reeve; J.D. Dueckman takes the role of the dead man, Gordon; Colleen Plenert his widow, Hermia; Brandon Mindel, his brother Dwight; and of course, Cooke plays his mother.
"I only said my character (Mrs. Gottlieb) was a bad mother: she's obsessed with one son and ignores the other. But she is also genuinely in grief, and when we're not laughing at her brashness, we may well spare some sympathy for her," Cooke said of her character.
Other roles in the play are performed by Natasha Ray, Liam Archer, and Melissa Harris.
Set design for this production is by Lisa Apps, with costume design by Catrina Lewis. Lighting design is by Mark Sutherland and sound design by Gabriel Kirkley. The stage manager is Rebekah Briscoe.
As for the play by Pulitzer Prize finalist Sarah Ruhl, it is described as a "black comedy."
An incessantly ringing cellphone in a quiet cafe; a stranger at the next table who has had enough, and a dead man – with a lot of loose ends. So begins this intriguingly dark yet hilariously funny work.
"Dead Man's Cell Phone is a play that examines how we memorialize the dead, and how that remembering changes us. It is the odyssey of a woman forced to confront her own assumptions about morality, redemption and the need to connect in a technologically obsessed world. Not only that: it's great fun too!" said Kirkley.
Cooke weighed in.
"The play raises issues that are immediately relevant socially," she said.
"What is our relationship with technology? Does it connect us? Or does it only appear to connect us and actually prevent us from making deeper and more meaningful connections? As the main character muses, cellphones require us to 'always be there,' but then so often people talking on them aren't 'really there'," Cooke explained.
"The play is very funny, but it's haunting_ It does involve a dead man and his cellphone and a young woman who stumbles into his life when she keeps his phone. But if you have ever read accounts of recent disasters (subway explosions, for example), you read tales of cellphones going off and bodies disconnected from those phones. These things are realities of our times," she elaborated.
"I think the production is well worth the time and a drive up the Valley," Cooke said, recognizing the drive involved for Langley residents thinking of taking in the show.
"Our university theatre department does very professional work, and the director has captured the quirkiness of this play quite well," Cooke said.
"One thing I might add is that I place a great deal of value on theatre," she said.
"For those who read drama or act in it, the experience teaches them what some call emotional intelligence – that is, the capacity of empathy and understanding. As I tell students, they can vicariously try out all sorts of identities and values without taking terrible risks. And for the audience, I think the experience of collectively sharing the live experience far outweighs what one can gain from watching a film or television show. I constantly attend plays, usually in Vancouver, and I am sure that my life is made richer by them," said Cooke.
Although she has taught numerous and varied courses, her primary area for teaching and research is drama, she specializes in Canadian and Irish drama, although she has taught history of drama, Shakespeare – both tragedy and comedy – as genre courses, and numerous classes of introduction to drama. She has also taught many courses in academic writing, and was one of the founders of UFV's writing centre, also serving for several years in past as dean of art.
Due to severe weather and several cancellations, Dead Man's Cell Phone's  run has been extended, with performances Thurs, Jan 26, Fri, Jan 27, Sat, Jan 28 at 7:30 pm and Sun, Jan 29 at 2 pm.
Ticket prices range between $9 to $20.
Organizers are warning that this play contains some coarse language.
For tickets and information, people can call 604-795-2814 or email: theatre@ufv.ca.
© Copyright (c) Langley Advance
Read more: http://www.langleyadvance.com/English+prof+steps+stage/5983594/story.html#ixzz1jMbc8pcX