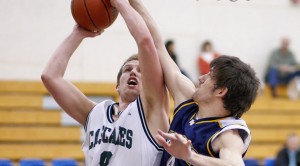 UFV men's and women's basketball teams take on their "down-the-freeway" rivals the TWU Spartan in the big house: Abbotsford Entertainment and Sports Centre, this Sat, Jan 28
The UFV Cascades will host their "cross-Valley" rivals Trinity Western Spartans in Canada West basketball games at Abbotsford Entertainment & Sports Centre this Saturday.
These regular season Canada West (CIS) games are presented by UFV Athletics in partnership with the City of Abbotsford, the Abbotsford Entertainment & Sports Centre, and the Trinity Western University Athletics department. Note: even if the UFV Abbotsford campus is closed due to snow or power failure, the game is slated to go on at AESC.
Using the very successful model of the Ottawa Senators (Scotiabank Place) hosting the Carleton University Ravens and the University of Ottawa Gee Gees in a regular season men's and women's OUA East basketball doubleheader, both the Cascades and Spartans look to showcase their great student-athletes in the beautiful 7,000+ arena.
The game will be played on Sat, Jan 28, and be considered the Cascades' home games against their Canada West arch rivals from Langley, BC.
Tickets for the general public are $15 each. There will be two student fan zones located behind both baskets and these tickets will be offered to the student body at both schools, capacity will be approximately 40 people per end zone and the cost will be $20, including a souvenir AESC Basketball t-shirt.
In addition to the general public ticket price, AESC will be offering boxes to watch the doubleheaders from at a cost of $750, which will include 10 tickets and food arrangements in the box.
"When the UFV Cascades take on the TWU Spartans in basketball, the tremendous energy and school spirit shown by the fans reflects the pride we have in our men's and women's teams," said Dr. Mark Evered, president and vice-chancellor of UFV. "We look forward to sharing that experience on a much larger scale at the AESC.  UFV is committed to building community here in Abbotsford and throughout the Fraser Valley. I invite you to join us for this event, and I look forward to cheering on the Cascades."
5 pm tip off women/7 pm tip-off men
Note:   Regular Season Canada West (CIS) games
For further information on the AESC please contact Michaella Petrik, Director of Marketing, AESC, 604-743-5005  mpetrik@abbotsfordcentre.ca
For further information on the UFV Cascades please contact David Kent, Sports Information, at 604-309-7658  david.kent@ufv.cva
www.ufv.ca/athletics