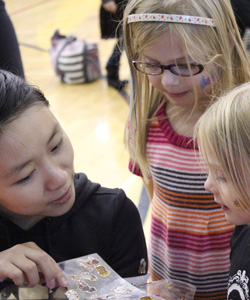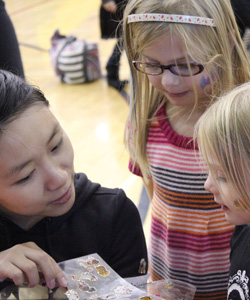 On Saturday, November 12, 32 UFV Volunteer to Work students gathered at the Abbotsford Recreation Center to help run the sixth annual International Children's Festival, hosted by the Abbotsford Early Childhood Committee.
Every year, the free event provides Abbotsford families who have young children with an opportunity to participate in fun activities that highlight the rich diversity of Abbotsford's culture
The UFV volunteers spent more than 140 hours, planning games, dances and activities for the children who attended. "The volunteers from UFV made a tremendous contribution to the success of the event," said Dawn Boudreau, Community Developer with the Abbotsford Early Childhood Committee. "The group's creativity and enthusiasm shined throughout the day.  The children not only expanded their knowledge about various cultures but they had a lot of fun doing it."
The students, who learned of this opportunity through the Volunteer to Work Facebook group, also enjoyed the opportunity to interact with kids from the community. "We are doing something that is really useful and great," said Sanny Zhang, one of the student organizers who coordinated the team of UFV volunteers.
"The staff at the Abbotsford Early Childhood Committee is grateful to all the UFV volunteers who participated," Boudreau added. "We look forward to working with such an amazing group again."
View photos on the Volunteer to Work Facebook page.