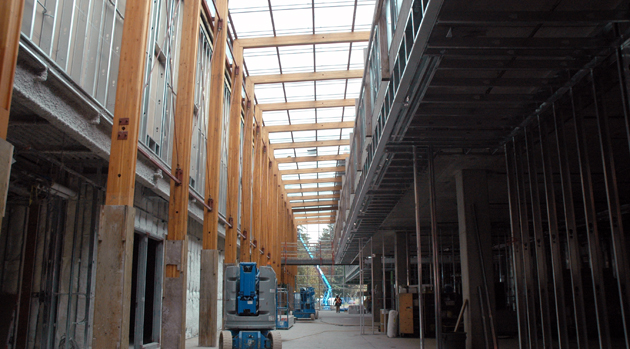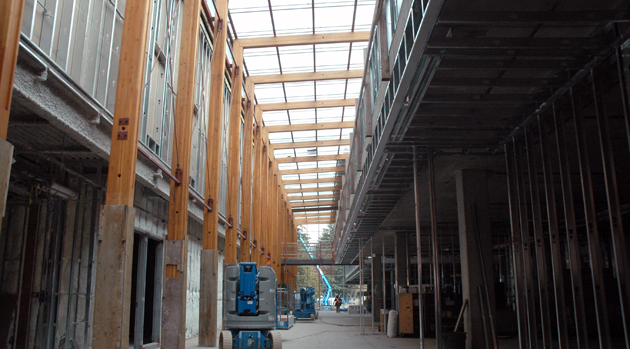 Students of the University of the Fraser Valley in Chilliwack will soon be learning in state-of-the-art surroundings at the university's Canada Education Park campus, thanks to pre-construction infrastructure improvements.
Local politicians and Advanced Education Minister Naomi Yamamoto got a sneak peek at the new building on Tuesday, Nov 8.
Mark Strahl, MP for Chilliwack–Fraser Canyon, Naomi Yamamoto, Minister of Advanced Education, and Barry Penner, MLA for Chilliwack-Hope, joined executive, faculty, staff and students to celebrate completion of a site preparation project that has paved the way for construction of UFV's new Canada Education Park campus.
UFV has received funding approval in the amount of $7.2 million from the provincial and federal governments for this pre-construction project through the Knowledge Infrastructure Program, part of both governments' commitment to repair and expand research and educational facilities at post-secondary institutions.
This was among 39 projects at post-secondary institutions throughout the province that were part of the Knowledge Infrastructure Program, a joint federal-provincial investment designed to renew infrastructure at post-secondary institutions across B.C. while also providing local jobs for communities.
Quotes
Mark Strahl, MP for Chilliwack-Fraser Canyon –
"Our government's investments in college and university infrastructure have created and maintained jobs across Canada. This project will allow the University of the Fraser Valley to strengthen its reputation as an innovative leader in our community and across Canada."
Naomi Yamamoto, Minister of Advanced Education –
"It's exciting to see the University of the Fraser Valley growing. UFV's wide range of programs and courses ensure students can choose the right program to suit their educational needs. When the new campus is completed, it will provide more students in this region the option to attend post-secondary education that is close to home."
Barry Penner, MLA for Chilliwack-Hope –
"UFV is an important part of our community and it's great to see this new campus taking shape. Speaking from personal experience, I know when students have access to great educational choices that are close by, it makes it easier to pursue post-secondary education, making it even more likely they will stay in their communities later as they build their careers."
Mark Evered, president and vice-chancellor, University of the Fraser Valley –
"This recognition and appreciation event is one of a series taking place across the country at member universities of the Association and Universities and Colleges of Canada. At UFV, we are pleased to thank our federal and provincial governments for their support for the development of badly needed facilities to support the rapidly growing demand for post-secondary education in the Fraser Valley."
Quick facts:
UFV's new campus is being constructed on land formerly occupied by Canadian Forces Base Chilliwack. Structures will be constructed following the Wood First Initiative, and are expected to meet LEED Gold standards. The new campus is expected to be completed by May 2012.
Learn more:
University of the Fraser Valley: http://www.ufv.ca/home.htm
CEP campus: http://blogs.ufv.ca/2011/09/new-chilliwack-campus-coming-along-nicely/
Knowledge Infrastructure Program: http://ic.gc.ca/knowledge-infrastructure
Some photos from the tour:
[AFG_gallery id='13']