'Sneak peek' at the new UFV Chilliwack campus
Chilliwack Progress, Nov. 10 2011
By Robert Freeman

B.C. and federal government ministers, city and university officials got a "sneak peek" of the University of the Fraser Valley's new campus located in the Chilliwack Education Park grounds Tuesday.
Construction workers still carried ladders and building materials around the L-shaped wooden beams and steel ribs that will form the student "corridor" leading from a cafeteria and bookstore at one end of the new campus to a "town hall" courtyard at the other, its south-facing wall and ceiling made completely of glass.
Two floors of classrooms form the north and south sides of the structure, with staircases leading down to the "pedestrian" corridor.
An "aboriginal gathering place," modelled after a traditional Sto:lo longhouse and large enough to hold 200 people, is also part of the design.
The state-of-the-art campus will include solar heating and "light harvesting" to reduce electrical costs, and will draw its water from below the Chilliwack aquifer in order to protect the city's supply of drinking water.
Read the full article here.
Opening doors to the future of Chilliwack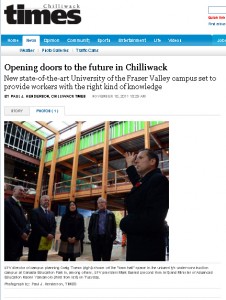 Chilliwack Times, Nov. 10 2011
By Paul J. Henderson

The theme of jobs was front and centre Tuesday as politicians discussed the new University of the Fraser Valley (UFV) campus at Canada Education Park (CEP).
But it wasn't a lack of jobs in the province that was the subject. It was the opposite, a future shortage of employees, and how UFV- both in trades and in professional programs-is helping.
"There are still jobs looking for people," Chilliwack-Hope MLA Barry Penner said. "And that's where the trades facility comes into play."
"Our biggest challenge for the coming decade will be to ensure we have enough workers," said Naomi Yamamoto, minister of advanced education.
Yamamoto was at the UFV Trades and Technology Centre along with Penner, Chilliwack-Fraser Canyon MP Mark Strahl, Abbotsford-South MLA Jon van Dongen, Mayor Sharon Gaetz, and UFV staff and executive, including president and vice-chancellor Mark Evered.
Read the full article
here
.