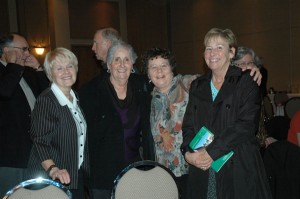 It was like old home week at the Ramada Inn on Thursday, Nov 24, as 19 retirees (10 of whom were present) were celebrated at the annual retirement celebration, which moved to a dinner format this year. As is the UFV custom, retirees from past years were invited to welcome their fellow retirees to this new phase of life. Walter Bissky, 87, UFV's founding welding instructor, was the unofficial senior retiree in attendance.
Chancellor Brian Minter spoke to the retirees, telling them that they had helped to transform the Fraser Valley region by giving people who had previously had few educational options the opportunity to change their lives through post-secondary education.
"I always remind people that UFV is not an institution. It is a special, unique place because of the people who work there and the way they make everyone feel welcome and accepted," he said. He reminded them that retirement doesn't necessarily mean resting on your laurels.
"Retirement is an opportunity to do something amazing for a second or third time."
People attending the dinner were invited to support a new UFV Retirees' Bursary to support students in financial need.
FSA president Virginia Cooke outlined  a new job description for the retirees, in which their major duties would be to themselves and the daily grind would just make them more polished, and told them that they had literally and metaphorically paid their dues.
UFV president Mark Evered told the retirees that UFV's employee and student population now equalled that of a small city, at over 17,000 people, and thanked them for the roles they had played in building the university.
Associate VP Diane Griffiths remarked that UFV had always seemed life a village to her.
"It was a place that we built, a place that cared for me and gave me hopes, aims, and support. What I have learned here, is that caring for people is a very deep value at UFV. And I know that you people will continue to care about their community."
Present at the dinner were Vera Carswell (Employee Services), Susan Delong (UUP), Judy Hill (Trades), Art Last (Chemistry), Georgina Marsom (Social Work and Human Services, who started as a courier and ended up as a faculty member), Lori Moren (Criminology and Criminal Justice), Carol Oddy (Social Work and Human Services),  Martin Silverstein (Criminlogy and Criminal Justice), Wendy Watson (Assessment Services), and Morrie Steele (Nursing). Also honoured were Joanne Bishop (Arts), Bertha Dewan (Faculty Services, Chilliwack), Mark Hoffmann (Counselling), Lynne Hunniford (ESL), Joe Kovacs (Heavy Duty Mechanics), Ernest Kroeker (Biology), Tim Lynch (Carpentry), Gary Ridsdale (CIS), Elli Tamarin (Counselling).
[AFG_gallery id='17']