UFV Dental Hygiene graduate saves the day
Just days after graduating and before her official licence to practise was even issued, recent UFV Dental Hygiene diploma program graduate Jana Sladkova was busy putting her education to good use.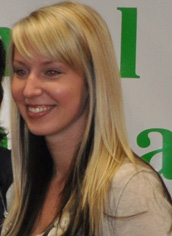 While watching her boyfriend's hockey game, one of the players was hit in the face by a puck. Although the player was wearing a visor and protective mouthguard on his upper teeth (which, ironically was made by Jana while a dental hygiene student), the puck managed to slip under the visor and make contact with a lower tooth, causing it to come out of the socket.
Jana quickly recalled the protocol for managing dental trauma from her third-year clinical theory and practice classes, and went into action. After the tooth was located, Jana skillfully re-implanted the tooth and made arrangements for the young man to be seen by a dentist. Knowing that the likelihood of the tooth being saved depends on quick action, re-implanting the tooth within a short period of time and maintaining the cells and structures which help keep a tooth in place, chances of a good outcome are high. The dentist noted that Jana's ability to think critically and manage the situation appropriately likely saved the day for this patient.
Well done, Jana!