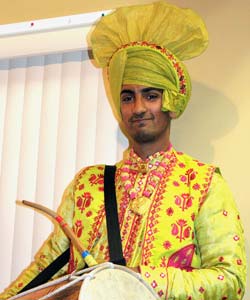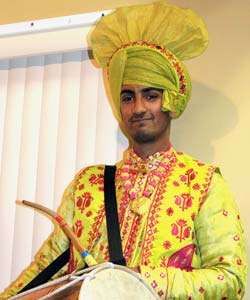 On October 20, 2011, the South Asian Peer Networking Association (SAPNA) hosted a Diwali celebration for the UFV community at the Centre for Indo Canadian Studies, located in U House. The event drew a large crowd of UFV students and staff as well as members of the larger Abbotsford community.
The celebration opened up with a community dinner where guests could sample several Indo-Canadian dishes, sweets and refreshments, while mingling. As Diwali is the Festival of Lights, guests could also decorate small clay lamps, called diya, and light a candle for the occasion or get a henna design painted on their hand.
The dinner was followed by a short presentation that highlighted the history of Diwali, a festival that has significance to three major faiths: Jainism, Buddhism, and Sikhism.
UFV president, Dr. Evered, who was in attendance with his wife Maureen, addressed the audience. "Not all learning at UFV happens in the classroom," he said. "Cultural celebrations such as the one tonight teach us to appreciate and understand each other's traditions and to develop a global perspective that is so needed in our changing world."
Anoop Dhaliwal, mentor youth facilitator at Abbotsford Community Services, also invited guests to volunteer to mentor South Asian youth who are at risk or new to the community.
The event wrapped up with games, including a sari wrapping contest, and spirited dance performances provided by the UFV Ghiddha and Bhangra clubs.
The crowd responded to the dancers with great enthusiasm and much cheering. "There's so much energy and color in the room, you cannot help but be drawn in," said Adaly Molina, a guest who attended the celebration. "I really enjoyed the whole evening, especially the dancers' performance."
Raji Heer, the MC for the evening, thanked the dancers: "To perform these dances, participants must not only master the steps, but also learn the language to sing the lyrics," she said. "We just want to thank all the dancers for their commitment to learning and practicing these traditional skills."