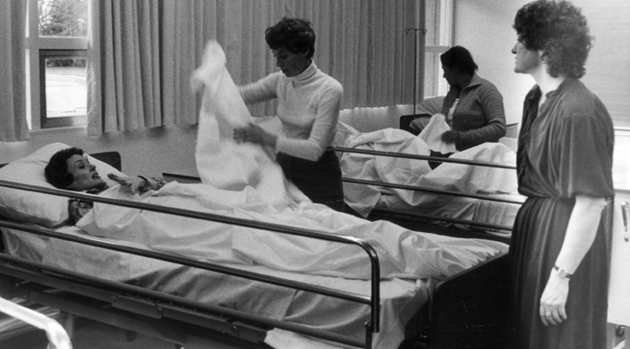 Calling all nurses! Do you remember when UFV was UCFV or even FVC? Getting your diploma or degree back when you still had to wear your 'whites' to class? Doing your clinicals at the old MSA hospital? When you took your training beside the carpenters at the old Portage Avenue campus?
Come back and relive the memories and see fellow nursing alumni at the first-ever reunion for BSN and Nursing diploma alumni at the University of the Fraser Valley.
The UFV Alumni Association has teamed up with the UFV Nursing department to offer the reunion on the Oct 21-22 weekend (Friday and Saturday).
Alumni and former and current faculty of the program are invited to come for a weekend-long reunion full of opportunities to connect with former class mates, re-experience a bit of campus life, and visit the future home of the UFV Nursing program at the new Canada Education Park in Chilliwack.
Nursing alumni can come and bid farewell to the old campus, and visit the building site of the new campus, while taking part in a host of fun activities and gatherings. All this takes place on October 21–22. The registration deadline is now Wed, Oct 12.
Alumni can update their contact information online, check out the details and register at www.ufv.ca/nursingreunion . You can choose to attend one, some, or all four of the events, which include:
Wine and cheese reception Friday evening
Campus tours on Saturday
Tap-ins group golf on Saturday
Gala banquet dinner with comedy show by "Rock, Paper, Scissors" Saturday evening.
For more information email us at alumni@ufv.ca or call (604) 557-4008
UFV alumni visit us often at http://www.ufv.ca/alumni to check out your latest benefits and privileges and register for special events.
Media contact: Anne Russell
Cell: 604-798-3709
Office: 604-795-2826
anne.russell@ufv.ca
-30-