UFV in the news: Rickaby off to meet Obama
Michelle, meet Michelle (Obama that is).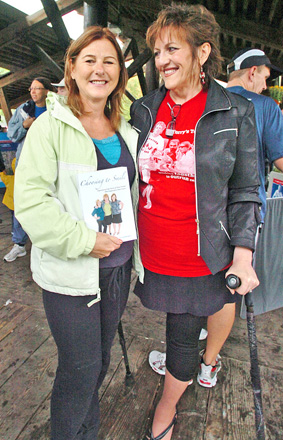 Two local women who are also cancer survivors and authors will be heading off to Washington, D.C. in early October after being nominated for a prestigious award at the Global Woman Summit.
UFV's Michelle Rickaby of Yarrow and Glenda Standeven of Chilliwack, co-authors of Choosing to Smile with Julie Houlker, have been nominated for the Woman of Courage Award for their inspirational account of each woman's battle with cancer.
Sadly, Houlker lost her battle with breast cancer last January, but not before learning of the nomination.
"She was so happy because she wants the message to go globally. She did live and she was choosing to smile right to the end," said Rickaby. "Hopefully her words will continue to inspire people."
Opening the conference on Oct. 8 will be U.S. first lady, Michelle Obama, who has been nominated for First Lady of the Year along with former first ladies Laura Bush and Rosaline Carter. Other notables who will be attending are Oprah Winfrey and Barbara Walters, who were both nominated in the media category.
Rickaby, formerly of Abbotsford who now works at UFV as an education advisor, said she is thrilled to be sharing the spotlight with so many inspiring women.
"We are so honoured just to be nominated. When you see the other women in the categories, they are inspirational women from all over the world. It will be an honour to meet them," she said.
Read more: http://www.abbotsfordtimes.com/news/Fraser+Valley+smile+goes+Global/5456640/story.html