The University of the Fraser Valley just made it very quick and easy — and a whole lot more entertaining — to find out almost everything you ever wanted to know about becoming a student at UFV. By teaming up with Kelowna-based HuStream, the university has produced a new interactive video tour, now on UFV's website.  Titled Get 2 Know UFV, it consists of 17 short video clips on what UFV is really like, what programs you can take, what it costs, and how to get in.
Hosted by two fourth-year UFV students, the video segments each end with a variety of buttons inviting viewers to choose what they want to learn about next. You can drill down into a topic to watch more videos, return to the main menu, link through to different areas of the website to find out more, or fill in a contact form.
"The best part of this project was being able to share my own positive experiences," said video host Carlos Vidal, UFV Student Union Society president and fourth-year business student. "I hope that prospective students will be able to feel how much I enjoy being a UFV student and how much they will enjoy it here too. Go Cascades!"
"Working with Hustream and UFV was an incredible experience," said video host Sheetal Deo, a fourth-year political science student. "I hope we were able to create something that will help students navigate their way through the campus and university life with a laugh and a smile — even if it is at our own expense!"
"Make video interactive and people watch longer," said HuStream Founder and UFV alumnus Peter Matejcek.  "The mixture of high energy video clips, real students talking, and the ability for the viewer to choose what's next, results in a fun opportunity to explore all the great things that UFV has to offer."
"At UFV, we pride ourselves on the friendly, welcoming, and supportive environment we create for our students," said Leslie Courchesne, director of marketing and communications at UFV. "With this video tour, we set out to make a fun and useful tool for students that answers their key questions about choosing UFV."
The interactive video tour was filmed over two days in August, at both UFV's Abbotsford campus and the Trades and Technology Centre (Canada Education Park) in Chilliwack. View it online at www.ufv.ca/get2knowUFV.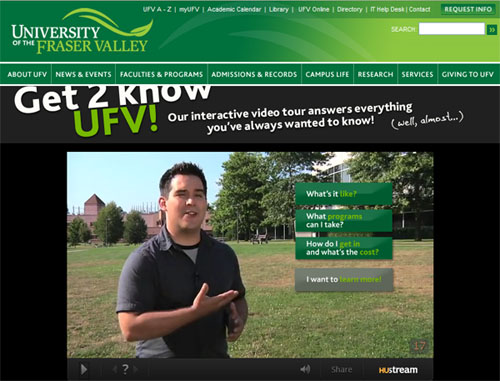 Media contact:
Leslie Courchesne
Director, Marketing and Communications
604-864-4611