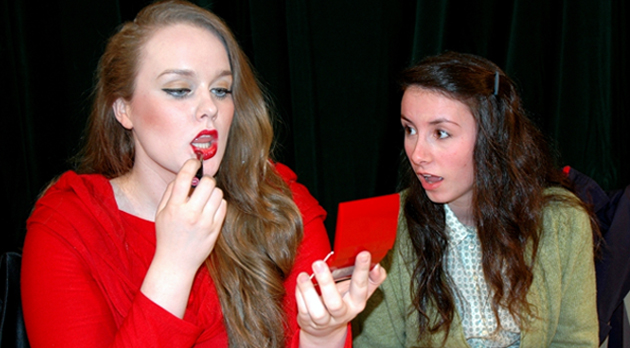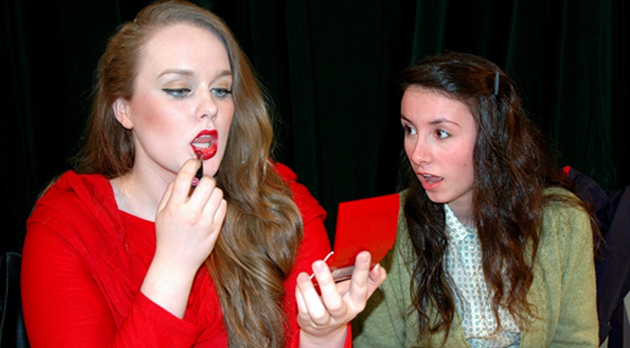 The second production of UFV's theatre season is the quirky, black comedy, Dead Man's Cell Phone, written by Pulitzer Prize finalist Sarah Ruhl.
Due to several performance cancellations due to severe weather conditions, the production has been held over until Jan 29, with performances at 7:30 pm on Thurs, Fri, and Sat, Jan 26-28, and a 2 pm matinee on Sun, Jan 29. Contact 604-795-2814 or theatre@ufv.ca for tickets. (UFV employees note: the prodcution features UFV English professor Virginia Cooke in a key role.)
An incessantly ringing cell phone in a quiet café; a stranger at the next table who has had enough, and a dead man – with a lot of loose ends. So begins this intriguingly dark yet hilariously funny work.
Dead Man's Cell Phone is a play that examines how we memorialize the dead, and how that remembering changes us. It is the odyssey of a woman forced to confront her own assumptions about morality, redemption and the need to connect in a technologically obsessed world.
Dead Man's Cell Phone is directed by UFV Theatre department head Dr. Bruce Kirkley, who also directed last year's production of Shakespeare's The Tempest.
In an ensemble composed mainly of UFV theatre students, casting is as follows: Jean the accidental protagonist in Dead Man's Cell Phone will be played by Renee Reeve; J.D. Dueckman takes the role of the dead man, Gordon, UFV English instructor Virginia Cooke plays his mother, Mrs. Gottlieb, Colleen Plenert his widow, Hermia and Brandon Mindel, his brother Dwight. Other multiple roles are performed by Natasha Ray, Liam Archer and Melissa Harris.
Set design for this production is by Lisa Apps, with costume design by Catrina Lewis. Lighting design is by Mark Sutherland and sound design by Gabriel Kirkley. Stage manager is Rebekah Briscoe.
Dead Man's Cell Phone runs for two weeks only at the Chilliwack campus. The show opens on Fri, Jan 13 at 7:30 p.m.  There will be half price previews on Wed, Jan 11 and Thurs, Jan 12. Other shows will run on Jan 14, 18, 19, 20 and 21 at 7:30 p.m. In addition, there will be two Sunday matinees on Jan 15 and 22 at 2 p.m.
Ticket prices range between $9 to $20.
Warning: some coarse language.
For tickets and information call 604-795-2814, or email theatre@ufv.ca.