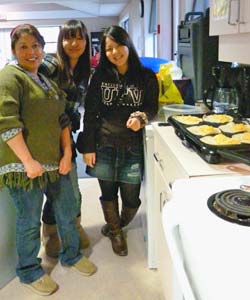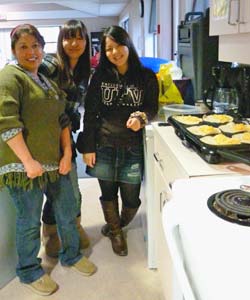 A cup of tea can warm the heart: add a cookie or two, mix with good conversation, and sprinkle with laughter, and you have Tea Time, an informal drop-in for UFV students that takes place every Friday, from 2:30 p.m. to 4 p.m at U House.
"We know it can be difficult for international students to adjust to a new environment and culture," says Adaly Molina, UFV International's Accommodation Liaison.  "That's why we started Tea Time in September 2010: we wanted to create a space for both international and Canadian students to connect with each other and share ideas and resources."
Students who drop by can choose from a selection of hot beverages and nibble on cookies or other treats, courtesy of Baker House's manager, Tracy Mason. "Tea Time is a good opportunity to meet other students and hang out with them over a warm cup of tea," says Hossein, a student who attends the drop-in.
Initially, the group met in Baker House. Students in residence often pointed out the fact that they had few meal options on the weekend, when both the cafeteria and U House are closed.
"Students in residence cannot have hot plates in their rooms," Adaly notes. "As a result, many of them end up ordering out on the weekend. When I discovered that, I saw an opportunity to plan a meal as an activity for Tea Time."
One Friday a month, students come to U House to cook and eat together. They contribute two dollars to purchase ingredients.  In October, they prepared lasagna; in November, a Mexican meal, complete with beans, rice, and quesadillas.
"It's really fun and it's something different," says Anna. "It's a change from pizza, popcorn and hot dogs."
"As a starving student, I enjoy the affordable food," Zack adds, "and it is fun when everyone gets involved in the preparation."
"Tea Time is a perfect pick-me-up for the end of the week," Adaly says. "People can support each other and talk about their concerns. Don't miss it: it is open to any UFV student or staff who'd like to join us."
For more information about Tea Time, contact adaly.molina@ufv.ca or call 604-864-4646