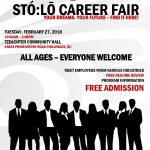 Stó:lō Service Agency is please to inform you of our upcoming Career Fair under the theme Your Dreams, Your Future – Find it Here! The Career Fair, which will bring together aboriginal people, employers, and experienced professionals under one roof, is scheduled to take place on February 27, 2018 at Tzeachten Community Hall.
This year's event will take place in three one and a half hour sessions.
Session #1: 10 am–11:30 am
Session #2: 12–1:30 pm
Session #3: 1:30–3 pm
Admission is Free to all pre-registered groups. There are no limits for the number of youth/students that your school or organization can register. ALL STUDENTS WELCOME!
For more information or to register for the event, contact Brianna Hall at Brianna.hall@stolonation.bc.ca
Tzeachten Community Hall – 45855 Promontory Road, Chilliwack, BC
http://www.stolonation.bc.ca/careerfair
For more information, contact Brianna Hall at brianna.hall@stolonation.bc.ca
02/27/2018