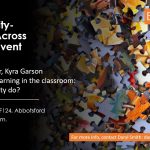 Faculty and staff are invited to attend a talk by Guest Speaker Dr. Kyra Garson entitled: Intercultural learning in the classroom: What can faculty do?
Oct 12
11:30 am – 12:30 pm
This has been switched to a hybrid event. It is now located in F124, Abbotsford campus or on Zoom: https://ufv-ca.zoom.us/j/65791921303?pwd=Ujh5cWZlNjNDTWRaMFpJZHFCaDNOdz09
Summary:
Many institutions in BC have taken up intercultural understanding as a foundational approach to enhance students' experiences of inclusion on increasingly culturally diverse campuses. For some, it is a strategic priority influencing learning outcomes that are linked to broader mandates of reconciliation and equity. In this session, Kyra will discuss current trends in intercultural learning, share research that supports an intentional approach to intercultural learning and suggest how revisiting curriculum and pedagogical approaches can enhance students' abilities to engage across difference and apply their intercultural awareness in ways that demonstrate a valuing of diversity, a recognition of discrimination, and a commitment to inclusion.
Speaker Bio:
Dr. Kyra Garson is the Intercultural Coordinator in the Faculty of Student Development at Thompson Rivers University which is located on the unceded territory of the Tk'emlúps te Secwépemc within Secwépemc'ulucw. Kyra is an educator, faculty developer, and researcher interested in the opportunities and impacts of internationalization, intercultural development, inclusive pedagogies, and social justice education. Kyra's doctoral study entitled "Are we graduating Global Citizens?" received the Canadian Society for the Study of Higher Education's dissertation of the year award in 2014. In 2011, the Canadian Bureau for International Education selected her to receive the Internationalization Award for her work with faculty to interculturalize the curriculum. In 2017, she was awarded the Distinguished Leadership Award by the British Columbia Council for International Education.
For questions about this event, please contact daryl.smith@ufv.ca
More about the Community-Building Across Cultures Event Series:
This event is one of four in a series that is intended for faculty and staff around the topic of inclusivity. The events, which are being organized by Chanetlle Marlor (SCMS), Satwinder Bains (Sasi + SCMS), Edward Akuffo (POSC), Anna Griffith (SoCA), Daryl Smith (International Office) and Victoria Surtees (Teaching and learning), are fun, social, and a chance for us to connect.
Theses events are also a starting place for a larger discussion we would like to facilitate around creating a more inclusive, culturally-welcoming community at UFV. Starting in January 2023, we will host a learning/discussion series focused on topics such as relationships and relationality; bias and worldview; systemic challenges and changes; and internationalizing our teaching practices.
Want to learn more? Come to an event or email chantelle.marlor@ufv.ca to join our mailing list.
Zoom link: https://ufv-ca.zoom.us/j/65791921303?pwd=Ujh5cWZlNjNDTWRaMFpJZHFCaDNOdz09
For more information, contact Victoria Surtees at victoria.surtees@ufv.ca
10/13/2022