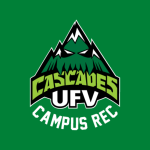 Here is what's happening this Spring/Summer at Campus Recreation & Wellness
Evening basketball (men's) and volleyball (co-ed) intramural leagues
You can sign up as a team or as an individual (free agent). So grab a friend and sign up today! Community members are welcome to sign up for spring/summer leagues.
For more information about how to register and prices, check out the Intramurals section on our website ufv.ca/campusrec.
Men's Basketball League
Spring: Monday | May 30–July 4 | 7-9 pm
Summer: Monday | July 11–August 22 | 7-9 pm
Co-ed Volleyball League
Spring: Wednesday | May 25 – July 6 | 7-10 pm
Summer: Wednesday | July 13 – August 24 | 7-10 pm
A Peak Pass Membership is now required to access the Summit (fitness centre), scheduled drop-in sports and fitness classes. Semester-long memberships are $30.
Campus Recreation is also hiring sport organizers to oversee and supervise the evening leagues, as well as referees for both sports. Job descriptions are listed online under "Join the Cascades Crew" and resume and cover letter can be sent to campusrec@ufv.ca.
For more information, contact Cheryl Van Nes at cheryl.vannes@ufv.ca
07/30/2022