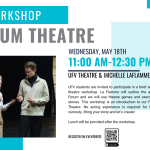 Forum Theatre Workshop
Presented by UFV Theatre with Professor Michelle LaFlamme
Wed, May 18
11 am-12:30 pm.
Abby D105
Lunch will be provided after the workshop in D115 at 12:30 pm.
UFV students are invited to participate in a brief and engaging forum theatre workshop. Professor LaFlamme will outline the aims and power of forum theatre and we will use theatre games and exercises to build short stories. This workshop is an introduction to our Fall 2022 Season of Theatre. No acting experience is required for the workshop, just curiosity. Bring your story and let's create!
The morning will be fast-paced and dynamic. Please wear loose clothing and be prepared to move, laugh, and learn. The workshop uses important principles of forum:
1. We all carry stories within us.
2. Communities have the power to transform problems faced by the community into solutions using improvisation.
3. Theatre is an effective means for social change.
To attend the workshop, please register on Eventbrite:
https://www.eventbrite.ca/e/forum-theatre-workshop-tickets-323412594777
For more information please contact:
Heather Robertson, Interim Production Coordinator
Heather.Robertson@ufv.ca
05/19/2022