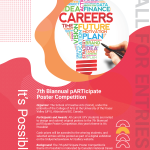 CALL for ENTRIES
7th Biannual pARTicipate Poster Competition
2021-2022
It's Possible!
Organizers
The School of Creative Arts (SoCA), under the umbrella of the College of Arts at the University of the Fraser Valley (UFV), Abbotsford BC, Canada.
Participants and Awards
All current UFV students are invited to design and submit original posters to the 7th Biannual pARTicipate Poster Competition. This year's theme is It's Possible!
Cash prizes will be awarded to the winning students, and selected entries will be posted as part of a digital exhibition on the S'eliyemetaxwtexw Art Gallery website.
Background
The 7th pARTicipate Poster Competition's theme It's Possible! is motivated by Canada's National Career Month – celebrated each November – but extends this dialogue beyond the original month-long focus.
Deadline: Tuesday, March 1, 2022, at noon.
See the Call for Entries Brief and the Registration and Agreement with Rational Form for important submissions details.
All forms can be downloaded at
https://www.ufv.ca/creative-arts/student-resources/opportunities/
For more information, contact Jocelyn Thiessen at jocelyn.thiessen@ufv.ca
03/02/2022