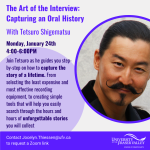 Save this exciting event in your calendars!
The Art of the Interview: Capturing an Oral History with Tetsuro Shigematsu
*Via Zoom
Mon, Jan 24
4-6 pm
Email jocelyn.thiessen@ufv.ca for a Zoom link.
Join Tetsuro as he guides you step-by-step on how to capture the story of a lifetime. From selecting the least expensive and most effective recording equipment, to creating simple tools that will help you easily search through the hours and hours of unforgettable stories you will collect.
Tetsuro Shigematsu is a Governor General's Award finalist. He became the first person-of-colour to host a daily national radio program in Canada, where he coproduced nearly a thousand hours of network programming, as well as writing, producing, and voicing over 50 pieces of radio drama.
His last three stage plays have garnered a total of 21 Jessie Richardson Theatre Award nominations, including 3 for "Best Original Script."
He is a former writer for This Hour Has 22 Minutes. Tetsuro's solo-work Empire of the Son was described by theatre critic Colin Thomas as, "one of the best shows ever to come out of Vancouver. Ever."
In 2018, he earned his PhD in arts-based research from UBC as a Vanier scholar and now serves as creative director of UBC's Research-based Theatre Lab.
01/24/2022 – 01/24/2022
04:00 pm – 06:00 pm
Zoom
For more information, contact Jocelyn Thiessen at jocelyn.thiessen@ufv.ca
01/25/2022