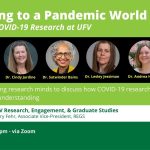 As the pandemic marches on, UFV continues to rise to the challenge, with a growing number of research projects spanning a diverse array of areas impacted by COVID-19.
The Research Office will be hosting an online public panel discussion to showcase the outstanding research some of our faculty have taken on over the past year and a half.
'Adapting to a Pandemic World – Exploring COVID-19 Research at UFV' will feature five of UFV's leading researchers each delivering a 10-minute presentation of their research to date, with an opportunity for Q&A at the end.
Thurs, Nov  4
7-8:30 pm
Zoom, with pre-registration requited
The public is welcome to register: http://www.bit.ly/3j2IOJr
Panelists / topics:
• Dr. Satwinder Bains
Mitigating the Effects of Epidemic/Pandemic Outbreaks on Temporary Foreign Agricultural Workers and Farm Operations in British Columbia
• Dr. Cindy Jardine
Developing travel readiness strategies for Chinese and South Asian populations in the Fraser Valley who regularly travel back to their countries of origin to visit friends and relatives
• Dr. Lesley Jessiman / Dr. Andrea Hughes
Social Isolation and Loneliness in the Face of COVID-19: An Examination of the Outcomes and the Key Protective/Predictive Factors
• Dr. Shelley Canning
Nursing students and seniors: Using technology to maintain social connections during Covid19
Join us as we shine a light on the outstanding research being done at UFV.
For more information, contact Leona Oakman at leona.oakman@ufv.ca
11/05/2021