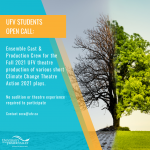 UFV Theatre mainstage production for fall 2021 will be a full production of various short Climate Change Theatre Action 2021 plays! Performances will take place between November 17-27.
The Climate Change Theatre Action 2021 is a global distributed theatre festival, and the theme for this year is "Envisioning a Global Green New Deal". The production will be a selection of the 51 short plays written by renown playwrights for this festival.
http://www.climatechangetheatreaction.com
Working from the premise that we will be able to present this production face-to-face, as we typically would, UFV Theatre is excited to offer students the opportunity to engage with these amazing, relevant works, and create an exciting performance!
We invite a wide range of students interested in creating and engaging in Climate Change Theatre to join us. You do not need to be a Theatre major or minor, or have any previous Theatre experience. For the cast, we are assembling an ensemble (a group of actors to work together), rather than auditioning for individual roles.
As with all mainstage productions, students taking part will receive academic credit for their practicum work, through one of THEA290, THEA291, THEA295, THEA299, THEA399, or THEA499.
And can we please add, for more details visit https://www.ufv.ca/theatre/opportunities.
If you would like more information about how you can participate, please contact soca@ufv.ca.
09/01/2021