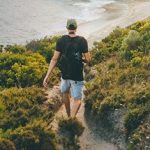 Would you like to live a healthier life? Check out Manulife Vitality for Group Benefits Members, an app-based program that helps you know your health, improve your health and enjoy the rewards. Manulife Vitality is now available to all UFV employees with extended health care coverage. The Manulife Vitality app boosts your motivation to make healthy lifestyle choices, gives you the tools you need to reach your personal health and wellness goals, and then rewards you for doing so.
With a variety of activities, the program directly aligns with UFV's Organizational Health Strategy Plan to encourage employee well-being.
Manulife Vitality – the basics!
This wellness program helps you understand your current health, social and lifestyle habits, and then rewards you for taking care of yourself and leading a healthy lifestyle. With a variety of activities, the program gives you the tools and motivation you need to reach your personal health and wellness goals.
Vitality Points
Earn Vitality Points by doing things you may already be doing in life. Walk your dog, get a flu shot, or get a workout in. The world is your playground!
Vitality Status
The more you move and improve your lifestyle, the more Vitality Points you earn. The more points you have, the higher Vitality Status you'll reach. Reaching Vitality Status levels unlocks your potential rewards.
Enjoy rewards
Reach your weekly Active Rewards target, collect your Vitality Points, and earn great rewards from companies like Tim Hortons, Cineplex, Indigo, Hudson's Bay and Foot Locker.
What's next?
If you have used Manulife's [please link plan member website], you will have received an email from Manulife, explaining how to register for this voluntary program. More information is also available on UFV's Compensation and Benefits webpage, along with answers to frequently asked questions.
If you haven't signed up for online access for your Manulife Extended Health Benefits Plan, click here for help on registering for your Plan Member Secure online account.
Let's take this journey to better health together and sign up for Vitality. Once signed up, join Manulife for a virtual plan member session about the Vitality program. Please register at Program links/Overall Registration to hold your spot!
Sincerely,
Laurie Coreau
Health and Disability Coordinator
For more information, contact Laurie Coreau at Laurie.Coreau@ufv.ca
06/19/2021