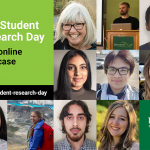 UFV's Student Research Day 2021 online showcase is available to view at ufv.ca/student-research-day now through the end of the year.
The showcase features 54 research projects by 80 (mostly undergraduate) students and their faculty mentors. From nursing to agriculture, social work to chemistry, psychology to biology — students' posters tackle intriguing questions about the natural world, our society, and ourselves.
Student Research Day is held once per year, by the UFV Research Office, toward the end of Winter semester.
UFV professors score the posters on quality, organization, visuals, and clarity of purpose (basically, why the research matters), and their feedback informs the selection of recipients for each year's Student Research Day awards.
For 2021, the Research Office is pleased to honour the following students with Student Research Day awards recognizing their strong posters and high level of scholarship:
• President Award — Regan Thompson (Psychology, supervised by Dr. Lesley Jessiman)
• Vice President, Students Award — Kennedy Zwarych (Biology, supervised by Dr. Sandra Gillespie)
• Provost & Vice-President, Academic Award — Kevin Gajsek, Brianna Whatley, and Gavyn Lastoria (Chemistry, supervised by Dr. Jacob Spooner and Dr. Noham Weinberg)
• Dean, College of Arts Award — Michelle Grafton (Sociology, supervised by Dr. Michael Corman)
• Dean, Faculty of Applied and Technical Studies Award — Lana Harach and Duong Ha (Agriculture, supervised by Dr. Renee Prasad)
• Dean, Faculty of Health Sciences Award — Leia Perovic (Nursing, supervised by Dr. Shelley Canning)
• Dean, Faculty of Professional Studies Award — Natalie Dahl, Jennifer Banh, Olivia deGroot, Elizabeth Welton, Courtney Mignot, and Kiran Toor (Social Work and Human Services, supervised by Dr. Lisa Moy, Dr. Amanda LaVallee, and Brianna Strumm PhD(c))
• Dean, Faculty of Science Award — Kabeer Poonia (Biology, supervised by Dr. Nathan Bialas)
The Research Office hopes people will take the time to browse all 54 student projects in the showcase.
If a poster moves you, piques curiosity, or inspires a question, Tweet @UFVresearch using hashtag #UFVStudentResearchDay and they will make sure to pass your message on to the student or team who created it.
Students interested in receiving reminders about next year's event (Student Research Day 2022) may email danielle.mijoburch@ufv.ca. For other ways to get involved with student research, visit https://ufv.ca/research/students/.
–
–
https://ufv.ca/student-research-day/
For more information, contact Danielle Mijo-Burch at danielle.mijoburch@ufv.ca
12/31/2021