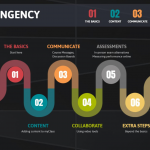 The Teaching and Learning Centre is offering training and resources to assist faculty in their design and delivery of learning material and activities in myClass (Blackboard).
If you would like to increase your comfort or proficiency with designing, developing, and/or delivering your course(s)online in myClass (Blackboard), please begin with some of the following resources.
The time you invest in preparation now will help ensure success in the event of a school closure, whether from COVID-19 or the next snow day.
In additional to the online resources, the Teaching and Learning Centre will be hosting face-to-face workshops and posting additional how-to Blackboard videos. More information will follow soon.
What is the first step? If you have not logged on to myClass (Blackboard) in the past week, please do so now to ensure you have no issues with your login. If you are not sure how to log in, please watch the video.
For login and Blackboard support please contact the IT Service Desk directly.
For more information, resources and links:
For more information, contact Leah Lyon at tlcevents@ufv.ca
03/31/2020