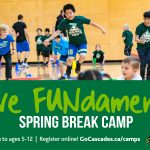 Spring Break camp at UFV, March 16-20, 2020!
This is an amazing Spring Break experience open to children ages 5-12.
The University of the Fraser Valley Campus Recreation and Kinesiology departments partner to bring you a full week of camp, March 16-20, 2020 on the Abbotsford campus, Building E.
Throughout the week, your child will work on developing fundamental movement and motor skills through fun and co-operative game-based programming. We will also do some as crafts, mindfulness activities and informative learning sessions. Active play activities are designed to encourage the development of balance, coordination and strength to help promote physical literacy skills for life and sport. The camp is led by UFV kinesiology students trained in the fundamentals of physical literacy and students in the Teacher Education program.
Camp age groups and prices:
(10% discount on registration fee for UFV employees, students and alumni)
Ages 5 yrs. — Half Day (9 am-12 pm) $96
Ages 5*-6 yrs. — Full Day (9 am-4 pm) $195
Ages 7-8 yrs. — Full Day (9 am-4 pm) $195
Ages 9-12 yrs. — Full Day (9 am-4 pm) $195.
*5-year-olds registered in in the full day camp must be currently attending a full-day kindergarten program.
For more information about the camp or to sign-up online go to www.gocascades.ca/camps.
You can also contact Cheryl Van Nes (604-504-7441 ext. 5111, or email campusrec@ufv.ca).
–
–
http://www.gocascades.ca/camps
For more information, contact Cheryl Van Nes at cheryl.vannes@ufv.ca
03/15/2020