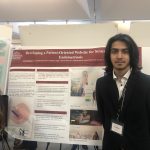 Aziz Ghafoor, a second-year Kinesiology student at UFV, recently became the first-ever student from UFV to attend the 2020 National Collegiate Research Conference (NCRC) at Harvard University.
The NCRC, which was created in 2012 by the Harvard College Undergraduate Association, is the largest student-run research conference in the United States and allows undergraduate students from all over North America to present their research.
Aziz was amongst the 200 students selected to attend the conference and gave a presentation on his research regarding Endometriosis — a study he began working on when he won a BCCHR Summer Studentship to work at the BC Children's Hospital over the summer with UBC's Department of Obstetrics and Gynecology.
Aziz wants students from UFV to know that opportunities like these exist and that students should take the risk and see where their research endeavors take them.
Aziz Ghafoor hopes his success inspires other students from UFV.
For more information, contact Abdul Aziz Abdul Ghafoor at abdulaziz.abdulghafoor@student.ufv.ca
02/01/2020